"[Is] this it?" asks Richard Morgan, "I'm not going back in, right?"
U-Hall is rocking. It's 1989, senior night, and the 'Hoos are beating Maryland by twenty points with two minutes and change left in regulation. Fourth-year Richard Morgan just left the court for the last time in his home gym in.
"No, you're not going back in," Coach Terry Holland responds, "Of course you're not going back in. This is it."
"That's all I need to know," Morgan says matter-of-factly, before he takes off into the stands, bounding towards his parents sitting in the crowd. After embracing his mom and dad, he hurries back to the bench, at which point Holland looks him up and down and says "You never cease to amaze me. I didn't even know you were doing that."
"I didn't even know I was doing that," Morgan says with a chuckle as Holland gives him the customary senior night hug.
Richard Morgan joins the Locker Room Access Podcast
Hailing from Salem, Virginia, Morgan grew up in an area known for its production of top quality three-point shooters. Nicknamed 'Shooter'sville' by Morgan himself, the Salem and Roanoke region of Virginia has seen marksmen including J.J. Reddick, Curtis Staples, J.R. Reynolds, and Morgan pass through the high school ranks and on to significant success in college.
Who is the best shooter in UVA Basketball history?
With the now dominant AAU programs less prevalent when and where Morgan grew up, his recruitment exploded following a number of impressive performances at top-tier summer basketball camps. Originally, North Carolina and N.C. State were Morgan's primary suitors, but, eventually, his decision came down to in-state rivals Virginia and Virginia Tech.
With Tech still playing in the Metro Conference, Morgan decided on UVa so he could compete in the ACC and face the nation's stiffest competition. He recalls that his mindset at the time was "I got to get in Cameron… I want to play them Krazies. I want to go to the Dean Dome."
From there, he headed to Charlottesville with high hopes for his first year. Originally unbeknownst to Morgan, the Virginia coaching staff was planning to redshirt him. "I didn't know nothing about no redshirt," Morgan says, clarifying that he knew "that [was the coaching staff's] plan, but that's not my plan, and I hoped that's not God's plan."
Fortunately for him, an early season injury to Derrick Simms gave Morgan the opportunity to see the court. With that opportunity, he became the first guy off the bench in his first season. That year, he averaged just over fifteen minutes per game, along with nearly six points.
After that first year, Morgan made the traditional first to second year jump. He became a fixture in the starting lineup and led the team in field goal attempts that season. As such, he was second on the team in scoring with 12.6 PPG.
Those first two years, the 'Hoos were near the top of the ACC finishing 5th and 4th, respectively. Each team also made the NCAA tournament, before losing in the first round.
But in Morgan's third year on Grounds, both the Wahoos and Morgan took a step backwards. Finishing the season 13-18, the 'Hoos missed the NCAA tournament. While fourth years Mel Kennedy and John Johnson each upped their offensive production considerably from the year before, Morgan dropped from 12.6 PPG to 10.1 PPG.
That year was a disappointing one for the team, and for Morgan. "My junior year was tough," he remembers, "the down and outs we had my junior year… we were at rock bottom. The program was in a tough situation."
Morgan even goes as far to relate his junior year to the 2018 team's loss to UMBC, saying "it was kind of like that feeling… but once we got through all that man, it was like, 'man, we're supposed to go this far'."
Richard Morgan 1989 Season Highlights
Far they went, as, in his last season in Charlottesvile, the five seed 'Hoos made a run to the Elite Eight. "It was worth it," Morgan says, "all the work we had put in those three years made it worth it." That year, Morgan averaged 20.2 PPG, was first team All ACC, and led the Wahoos throughout the NCAA Tournament, scoring 91 points in the team's first three tournament games, and 112 in total.
Notably, Virginia's contest with Oklahoma in the 1989 Sweet Sixteen was one for the ages. Ranked fourth in the nation, Oklahoma boasted stars Stacey King and Mookie Blaylock. Morgan and Bryant Stith carried Virginia in that game, scoring 25 and 28 points apiece.
"They [were] giving us all we wanted. And we were giving them all they wanted," Morgan recalls, "It was a heavyweight fight."
When the final bell rang, the Wahoos were left standing, winning 86-80. "I think they thought it was going to be easy," says Morgan, "but they had no idea we [were] going to come to play that day."
Watch Virginia's 1989 Sweet Sixteen win over Oklahoma
From there, Virginia tipped off against highly touted Michigan in the Elite Eight. Says Morgan, "That was a tough day at the office there," adding "we ran out of gas and steam, and [Michigan] figured out how to stop us." That they did, as the Wolverines advanced following a thirty-seven point thumping of the Wahoos. With that loss, Virginia's Final Four aspirations and Morgan's college career came to a close.
Nonetheless, Morgan's career at Virginia has gone down in the record books. Ranked 17th in scoring in the program's history, Morgan also holds the fifth-highest season point total with 673 in his last year. He also recorded a whopping five thirty-point games in his time on Grounds, and is eighth all time at Virginia in steals.
Looking back, Morgan attributes his success to his obvious dedication to his craft, but also the family and community that supported him. Remembering when he ran through the stands to thank his parents on senior night, Morgan says that "I was just going to personally thank my folks, just for everything they'd done for me," adding "all the times they sent me to those camps. I know my dad probably didn't have [the money for] it, but he was just like 'hey just go to the camp. It was just a thank you for all that."
Along with his parents, Morgan greatly appreciated the academic support and the advisers who worked with basketball program. "I would go to the offices after a big game thinking 'yeah I'm the big man on campus now' but the secretary Carol would say to me 'okay you had some points, that's great. You have a paper due tomorrow," recalls Morgan, "I'd say 'I had twenty-five points. Carol I'm on TV' but she's like, 'excuse me, I need you to go over there and get your paper started."
"It was humbling… that really taught me how to be humble," he says "it was a great situation for us. We had great people around us that would keep us humble, keep us grounded. But at the same time, they'd laugh at us, poke fun at us."
Morgan also mentions the loaded Virginia coaching staff, saying "You look at that coaching staff, that was an a amazing coaching staff," before going on to list "Jim Laranaga, Dave Odom, Jeff Jones, Tom Perring." He comments that "just learning from those guys was unbelievable," emphasizing that "on and on and on are the people that really taught us to be good men… Really the village did raise us at Virginia."
After his time in Charlottesville, Morgan went undrafted in the 1989 NBA Draft, and, while he participated in a couple of training camps, he never made an NBA roster. Obviously, he was disappointed, and says that "I just didn't get a shot like I thought I would." But, he's come to accept that "it just wasn't in my cards to get drafted, and I was cool with that."
So, Morgan spent his basketball career playing in the CBA and overseas in Europe. After a number of years in Europe, his brother apparently "tricked me into going to [coach] at the middle school [where his brother coached the high school team]."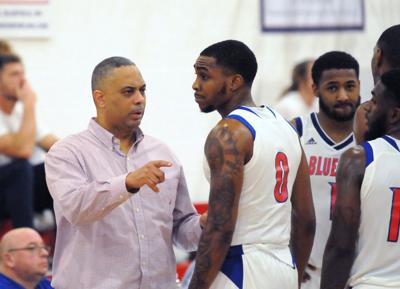 That gig kicked of Morgan's coaching career, who know has been the head coach at Bluefield College for eleven years. He's also been an associate coach at Appalachian State, Hampton, and East Carolina. Above all else, Morgan ensures that his players "be good guys," saying that he makes his players "sit in the first three rows of the class," making sure that they aren't "in the back, don't have their headphones on, don't have your caps on, and have your pants pulled up."
He comments that "I think discipline is the first thing with my guys. Communication, discipline, and then after that, on the court, we give maximum effort." Morgan's recruiting pitch? "Bibles, books, and basketball," he says, before underlining that " we are a Christian school… that's what I can give you at this school."
Not only does Morgan utilize similar coaching philosophies as Virginia and Tony Bennett, he's also implemented the packline defense. In fact, the current UVa coaching staff has been extremely helpful as Morgan has adapted their defensive system to his program. "I've been up [in Charlottesville] plenty of times to watch it," says Morgan, adding that "I call up and might as a question, or when I'm up there they're easy to get them to write something on the board."
Of course, Morgan notes that Bluefield's implementation of the packline is a process. "We'll go up and think we got it," he says "and we'll bring it back and put it in and I'll go 'ah we ain't got it. They ain't doing it like Clark. I need somebody like Clark.'"
"It take times though," says Morgan "Coach Bennett always tells me 'its going to take you time. You aren't going to get it just like that… You need to have guys that have been it for a long time.'"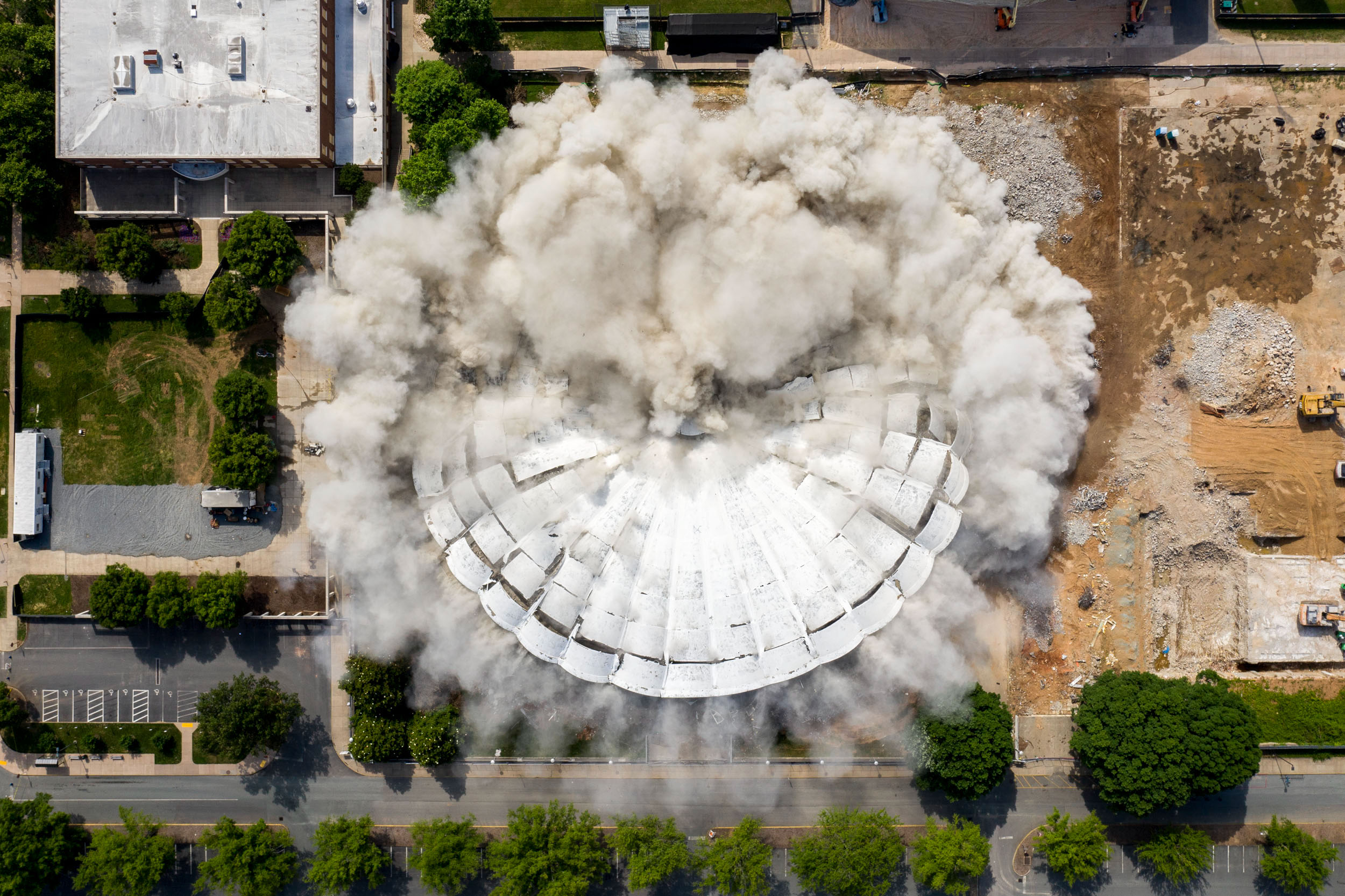 While Morgan establishes a tradition in Bluefield, one of Virginia basketball's traditions literally came crashing down last summer, and Morgan was there to watch. "Being there that day with Dawn Staley… all the other great members that played there or coached there, it was a wonderful day to be there," comments Morgan, "That whole day was so special… that place will never be forgotten."
Just as U-Hall will never be forgotten, neither will Morgan's time on Grounds, nor his infamous trip into that boisterous senior night crowd.