(Image – University of Virginia)
A teetering bus is speeding through the snaking roads of the Sierra de Lobos mountains in central Mexico. As he accelerates out of a corner, the driver takes an aggressive swig from a flask reeking of tequila. On a journey to San Louis Potosi, Gus Gerard sits near the back of the bus, hunched over while reading his big book of Alcoholics Anonymous and struggling to keep himself composed. The forty-year-old Gerard is three months sober and is in Mexico to play a few months of professional basketball to cover his child support expenses.
Hours earlier, Gerard flew in to Leon from Houston, Texas, straight from his rehab center. Originally, the plan was for an assistant coach to pick Gerard up at the airport and drive to San Louis Potosi. Unfortunately, the coach's car had broken down on the way to Leon. So, after praying his way through the seven-hour anxiety ridden bus ride to San Louis Potosi, Gerard steps off the bus and towards the (now working) assistant coach's car.
"Let's go, we got to hurry up. We got a game tonight," the coach exclaims as Gerard slips into the car.
"Tonight?!," Gerard responds, "What do you mean 'we got a game tonight'? Do you know what I've just been through?"
Despite Gerard's objections, the coach rushes him to the arena and into the locker room. There, Gerard listens to a brief pre-game speech before the head coach thrusts him into the starting lineup. While his day had been a personal hellscape up to that point, the moment Gerard steps onto the court he is immediately comfortable.
At that point, Gerard's instincts kick in and he takes command of the court, out-leaping his younger opponents, and losing himself in the game he loves. Unfortunately, an opponent's elbow clocks Gerard in the forehead as he he comes down with a rebound.
On impact, Gerard's head splits open, and blood splatters on the floor around him. Team trainers rush to him, and they hurry him to the locker room. From there, the team owner, who was, fortunately, a surgeon, drives Gerard to a house converted into a medical clinic. There, the doctor stitches up Gerard's head, and the former Wahoo's nightmare of a first day in Mexico is complete.
Listen to Gus Gerard on the Locker Room Access Podcast
That was August 12th, 1993, and it was the day Gerard played his first competitive basketball game in twelve years. His lifelong journey is filled with the same triumph, the same pain, and the same highs and lows of that roller coaster ride to that stadium in San Louis Potosi.
Early Years
Daniel 'Gus' Gerard grew up outside of Pittsburgh in Uniontown, Pennsylvania. Enamored with basketball from a young age, Gerard lived in a town that was something of a hub for high school basketball.
He first heard of the University of Virginia and their basketball program as a sophomore. In fact, while the coaching staff were recruiting Gerard's high school teammate Jim Hobgood, they met Gerard and established a relationship with the sophomore big man.
From there, Bill Gibson, the head coach at the time, invited Gerard to their basketball camp in Gettysburg. For three straight years, Gerard attended that camp for five weeks, and got to know what Virginia basketball is about.
"I fell in love with the coaches from Virginia," says Gerard, "they took me under their wing. They pretty much put a monopoly on me. Coach Gibson was at my house half my senior year, probably. He would grab my arm when other coaches called and he'd stand there and start twisting my arm."
Despite interest and enticing offers from schools including Maryland, Duke, North Carolina, and Kansas, Gerard committed to Virginia. "They weren't going to let me get way from going to UVa," he says with a chuckle, "that's for sure."
Career at Virginia
When Gerard arrived in Charlottesville in 1971, the NCAA required first years across the country to play on separate, non-varsity freshman teams. So, Gerard spent that time developing his game and settling into the college atmosphere.
In Gerard's second year, Barry Parkhill and Hobgood were fourth years, and expectations for the team were high. In addition, the NCAA finally allowed first years to play varsity sports in 1972. As a result, first year Wally Walker's eligibility only added to the preseason hype.
Unfortunately, according to Gerard "we were a bunch of guys [who hadn't] played together very much." As such, despite the heightened excitement and expectations, the team finished the season 13-12 (4-8 in ACC play).
While the team struggled in Gerard's second year on Grounds, he certainly didn't. Forced to play as an undersized center, Gerard relied on his heralded verticality to hold his own in the paint. Impressively, Gerard averaged nearly fifteen points and eight rebounds per contest in his first year playing varsity ball.
In his third year, Gerard took a leap. The departures of Parkhill and Hobgood meant that Gerard entered the season as the leading returner. He fit that role perfectly, and upped his production accordingly. Averaging over twenty points per game to go with ten rebounds per contest, Gerard finished second in the ACC in scoring in the 1973-1974 season. In fact, that performance earned him a selection to the All ACC First Team.
Decision to Leave Early
For Gerard, such a successful season brought up the debate of turning pro at the conclusion of his third year. A thirty-nine point and nineteen rebound performance in the first round of the ACC tournament put any discussion of Gerard's decision to bed. "After that game, I knew that would probably be my last ACC Tournament," remembers Gerard, "that was it for my career then."
After Gerad continued to impress in the world games, the Carolina Cougars of the ABA selected Gerard in the underclassmen draft. They offered him a three-year, $300,000 contract. But, complicating matters, Carolina folded shortly after picking Gerard, and they were bought out by a new team called the Spirits of St. Louis.
Is Gus Gerard the best Virginia player to leave school early?
When Gerard met with the new owners, they offered him a five-year, $950,000 guaranteed contract with a $75,000 signing for bonus. For Gerard, that made his decision to leave school that much easier. "When they came out with $950,000 plus the $75,000 signing bonus, I signed," Gerard recalls, "I didn't call nobody, not my parents, nobody."
Days later, Gerard returned home to take care of a few things. "First thing I did was go home to visit my parents," says Gerard, "I paid off their mortgage and I bought my dad a pickup truck."
By signing that deal, Gerard became the first Virginia basketball player to leave school early for the pros. Explaining his decision to leave, Gerard says "I was thinking 'what happens if I stay and I get injured? I need to take this right now because I can help my parents and I can set myself up for a while." He adds that "It was one of the biggest contracts given back then, too."
Despite being the first player to leave early, Gerard, fortunately, didn't experience any severing of ties with the university. "They welcomed me back with open arms," he notes, "maybe privately [people] said something else, but they never told me anything but 'hey we're really happy for you.' The community seemed happy, I built a home there, bought some land, and lived there for quite a few years."
Development of Addiction
But while Gerard's basketball career was unfolding perfectly, his secretive second life of substance abuse was just beginning.
In high school, Gerard began his interaction with harmful substances, but not to the extent he would eventually reach. "I started smoking a little pot in high school," he recalls. "I drank maybe a beer now and then at a senior dance, but I never did anything crazy."
But when Gerard arrived in Charlottesville, the party atmosphere of the school swept him up. Gerard remembers, "I got to UVa, and there was a party all the time. I liked to meet people and party," adding "There was always a different party to go to, and I started to drink beer more and started to smoke pot more."
He goes on to explain that "you have this tendency to feel bullet proof because you're in such great shape. It was like 'no big deal.'" Gerard adds that "I never really thought I had a problem. I kind of knew deep down inside that maybe I was going to extremes. But, so many other people were doing it at that time. I just thought 'if I'm an addict, everybody else must be around here.'"
Pro Career
Despite his developing issues with drugs, Gerard thrived in the early years of his professional career. By averaging over fifteen points and nearly eight rebounds per game as a rookie, Gerard broke onto the scene in St. Louis.
But, once again, a jump to the next level for Gerard also resulted in an increase in the use of substances as his same mindset in college carried into the pros. "Where I really crossed over was in professional basketball," says Gerard, "not so much during the seasons, but in the off-seasons, a lot of partying."
In that time partying in the ABA, Gerard was introduced to cocaine. But, despite his steadily worsening, unhealthy habits, Gerard prolonged his professional career for a few years.
In his second season in St. Louis, Gerard requested a trade to the Denver Nuggets. The Spirits had brought in a stable of guys in the off-season including Moses Malone. With his playing time prospects up in the air, Gerard figured it'd be better to look elsewhere.
That move worked out well for Gerard, as, at the end of that year, the ABA merged with the NBA. While the Nuggets joined the NBA, the Spirits were one of the two ABA teams left out of the merger. "[The ABA] didn't have a contract with TV," explains Gerard. "There had to be a merger," he says, "there had to because the ABA teams were folding left and right and he NBA teams' ratings were down."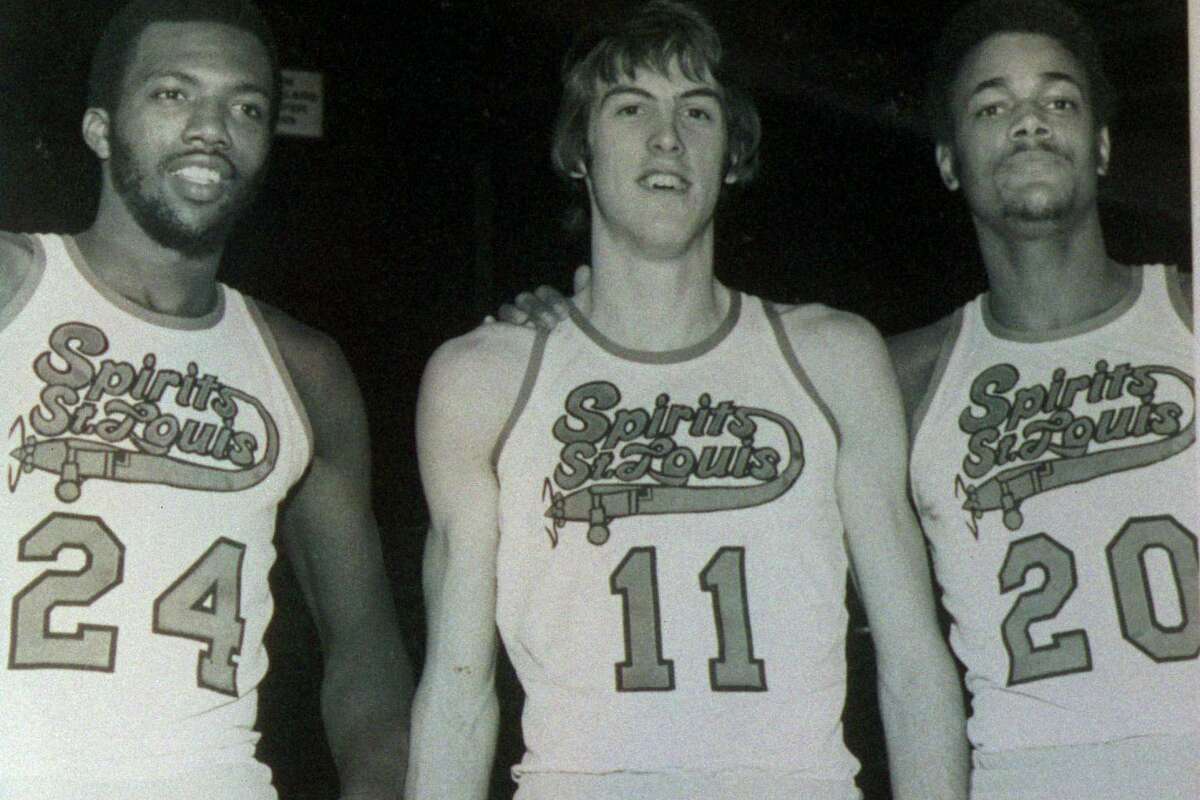 So, after two seasons in the ABA, Gerard began his NBA career in 1980 with the Denver Nuggets. But, at that point, while Gerard still had some of the skills to compete, he began to drop off. After a season in Denver, Gerard continued to bounced around the league for the next few years. From Buffalo, to Detroit, then on to Kansas City and later to San Antonio, Gerard struggled to establish himself anywhere.
Heading into the 1981-1982 season, Gerard got a training camp contract with the Utah Jazz. But his unfortunate off-season habits caught up with him. "I was so out of shape," he comments "I didn't prepare myself like I should've physically. Plus, I'd partied a lot in Charlottesvile that summer, a real lot. I lost my priority and passion for the game." As a result, the Jazz cut Gerard before the season even began. After hearing that news, Gerard decided "that's it for me."
He then decided to settle down in Charlottesville with his wife and first child. "I had a home," Gerard notes, "I had a child. I was comfortable where I was at."
Post Career
While Gerard was set up for a comfortable retirement from basketball, he quickly fell victim to the substances he'd been using throughout his career. "When my career was over," he notes, "that's when my [drug use] really took off. I was still getting paid deffered money for five more years. By then, I was ready to party."
"I had my own secret world that I lived in," he says "that's when i crossed over. I had too much time, too much money. And I wanted to be the first one to party and the last one to leave. And all it did was spiral downhill."
Downhill indeed, as Gerard developed a cocaine addiction. "When you start using cocaine with an ego, you can get out of control real fast," Gerard says in reflection. "You can forget about your priorities, you can forget about your best friend, and you can forget about responsibilities."
As a result of Gerard's deep spiral into addiction and alcoholism, he lost almost everything. He lost his house, the money he'd earned in the pros, and he lost his family, as his wife and kids left him after the bank foreclosed on their house.
"At that point, I knew that what I was doing was screwing up me and my family," Gerard recalls. "But I was so deep into it," he says, "every time I would start thinking about the pain I must be causing everybody, I would just annihilate myself with boos or cocaine to forget about it."
Suicide Attempt
So, twelve years after Gerard retired from the NBA, he found himself living on the street, and drinking alcohol under bridges. Eventually, Gerard ended up in Ohio, a few hours from his hometown. There, all that pain Gerard had caused himself and those he loved came crashing down on him.
"I drove around in this old beat up car," he remembers, "I drove around for like a day and a half. I had some coke and I was snorting that. And I had some vodka and I was drinking that."
After a while, Gerard pulled into the garage of the house he'd been crashing at, and found what he thought was his escape. "I pulled the car in [the garage]," he says, "I said a prayer, and I wanted the fumes to take me out."
"I was so sad," Gerard emphasizes, "I was so upset about not seeing my kids and what was happening to me and the people I'd hurt. The chronic emotional distress I was going through at the time was so intense that I just couldn't deal with it anymore. I wanted to end my life. So, I said a prayer. I said 'God, I'm sorry. Please take care of my kids.' And I laid the seat back and hoped I wouldn't wake up."
A few hours later, Gerard woke up in the car, groggy, but alive. Rather than be poisoned by the fumes of the running car, Gerard had survived his suicide attempt because the car had run out of gas shortly after he fell asleep.
From there, Gerard got out of the car and stumbled into the house where he found a newspaper. Featured in the paper was John Lucas, an old friend of Gerard's who had opened a rehab center in Houston. After reading the article describing Lucas' battle with addiction and his eventual recovery, Gerard immediately called the center.
"I just left my name as a message, seeing if I could get down there," Gerard recalls. "John called me back that night and he asked me what was going on. I told him everything I'd been doing, and I got real honest with someone for the first time in a long time about what was going on in my life, and what pain I was feeling, and what I was doing to numb that pain."
From that conversation, Lucas invited Gerard to come down to Houston and enroll in the rehab center at no cost. "I got down to Houston, Texas on May 26th, 1993," notes Gerard, "and that was the first day of the rest of my life.
Recovery and Onward
In Houston, Gerard re-found himself spiritually and, also, rediscovered his physical fitness. That time in the rehab center was life altering for Gerard. "When I got there to that treatment center, it was so cool," he remembers, "I had a king size bed. I hadn't slept in a bed in a couple years. And there was food in the fridge."
Gerard emphasizes that "they just built you up, spiritually, emotionally, and physically." From that, Gerard found himself in phenomenal physical shape again. "I was in maybe the best shape throughout my pro career," he says, "because I hadn't done any drinking or anything for 110 days and I'd worked out everyday." As a result, one day, when Gerard was playing basketball at the infamous Fonde Recreational Center, a scout from a Mexican basketball league spotted Gerard scrimmaging with current pros.
From the interaction with that scout, Gerard found himself on that wobbling bus in the middle of Mexican mountains. After playing for two more months in Mexico, Gerard returned to Houston where he had to confront what his future looked like.
After Gus arrived back in Houston, Lucas asked him "What are you going to to do now?"
In response, Gerard said "I'd really like to be a drug and alcohol counselor. I want to help people like y'all do."
So, Gerard went back to school to get his alcohol and drug certification. After three years of school, he began working for Lucas' rehab center. "I loved it," Gerard says in retrospect, "because I was saving people's lives. I still get calls to this day [from former patients who say] they're still sober and they're still clean and that I had such an influence on their life."
"To me," he says, "that's been [the most] rewarding part of all my life. Through all the basketball, through everything, helping people, that's still brings chills and makes me feel grateful for that part of my life."
That job also allowed Gerard to settle down. In fact, he spent the following fifteen years in Houston and even remarried in 2000. Five years ago, Gerard returned home to Uniontown to take care of his mom. For a few years, he actually owned and ran a pub in Uniontown. But once the pub became a bit too much, he sold it and is now working a job in the Fayetteville Country government.
It's something remarkable that a man who was at one point living under a bridge could have such an incredibly positive impact on people who have experienced similar trauma. The story of Gerard's career is undoubtedly a cautionary tale. But his journey to redemption is nothing short of impressive.