Examining Trey Murphy's Final Four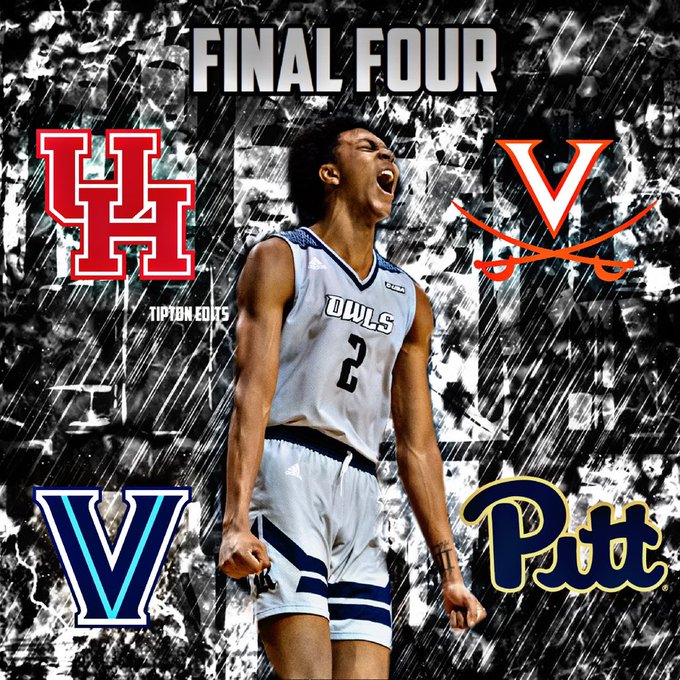 Rice transfer Trey Murphy trimmed his list of possible destinations down to a final four this afternoon. Virginia, Villanova, Pittsburgh, and Houston are left standing from over 40 programs that initially contacted him.
The 6'8 guard/forward combo plans to redshirt next season, then will have two years of eligibility remaining. He averaged 14.7 points and 5.5 rebounds during his sophomore campaign at Rice, the team's leading scorer.
Murphy is from Durham and attended nearby Cary Academy. He was always known as a great shooter. That's carried over into his college career, connecting on 39% of three-point attempts on high volume. He's grown three inches since high school, adding a whole new dynamic to his potential and attracting heavy hitters to his transfer recruitment.
What could Trey be looking for?
Murphy told Rivals "The most important thing to me is being able to maximize my talent and my abilities. Wherever I feel like I can do that best is where I will go."
Obviously player development is key on his mind. That fits with his desire to sit next season, despite a great opportunity to be granted a waiver. A system that best utilizes his skill-set will be important for sure. I would think a young man who chose Rice would also consider academics. As always, relationships and playing opportunity will factor in. Let's take a look at how each of his finalists stack up…..
Virginia
Roster: The Hoos have one scholarship open for next season. There could be some concern about how it would impact 2021 recruiting efforts, but I don't think he would alter decisions of any of the current top targets. He would certainly need to compete for playing time though.
Fit: Tony Bennett has a long proven track record of utilizing shooters, and developing big wings like Murphy. Virginia's strength and conditioning program under Mike Curtis is second to none. Mr. Jefferson's University certainly fits the high academic model.
Relationship: It was a brief flirtation, but Virginia was one of the few high major programs to evaluate Murphy in high school. There's familiarity that the others don't quite have.
Villanova
Roster: Scholarships are available. They'd like to add another wing player, and are also involved with Kentucky transfer Johnny Juzang. The year Murphy becomes eligible, 2021, is sort of reload year for Jay Wright. He's looking at a big recruiting class. There's opportunity available for Trey.
Fit: There's a reason Virginia and Villanova often compete for the same recruits. They're similar programs with many of the same strengths that appeal to recruits. Player development being at the core for both. Jay Wright has especially done well with big wings and combo forwards like Murphy. Villanova is another high end academic institution.
Relationship: The Villanova staff doesn't have any prior relationship that I'm aware of.
Pittsburgh
Roster: Pitt has two open scholarships. They fully intend to add someone in Murphy's mold. But they're considered the heavy favorite for jumbo wing William Jeffress, who also has UVA in his top 10. Trey should have no problem gaining a large role there.
Fit: They don't have nearly the history of player development as Virginia or Villanova. However, Jeff Capel is a little more willing to overlook shortcomings if a player can get buckets. That could appeal to Murphy, who needs to improve in other areas.
Relationship: As mentioned, Murphy is from Durham. His dad, a former East Carolina player, coaches an AAU program there. It's a safe bet he's crossed paths with Jeff and Jason Capel.
Houston
Roster: They're currently booked on scholarships. Obviously that can change quickly this time of year. They have a lot of guards and wings. Plenty of roster competition.
Fit: Houston plays a very free flowing style, and they utilize shooters very well. They play mostly small guard heavy lineups. it's a system that would be friendly to Trey's skill-set.
Relationship: Head Coach Kelvin Sampson is a North Carolina native. He's done a great job recruiting his home state. Two of his three leading scorers this past season are from North Carolina, and chose the Cougars over power conference offers.
My Take
When you examine all factors, it makes sense for each school to be included as finalists. He's probably looking at different angles, in terms of development versus opportunity. Virginia and Villanova offer that proven developmental path, while also presenting challenges that Houston and Pittsburgh do not.
Virginia has the best combination of player development, academics, and prior relationship. While he hasn't mentioned it, location could very well be a factor in today's uncertain environment. At least on paper, the Hoos look like the favorite. But any of the four choices would be understandable, all depending on what's most important to Trey and his family.