Jacob Cofie Commits to Virginia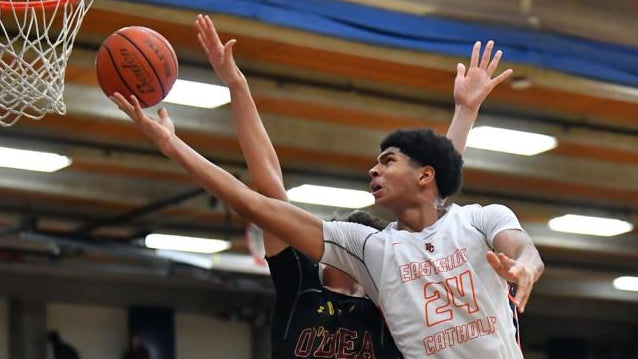 Tony Bennett has landed an important piece of his future frontcourt. Jacob Cofie announced his commitment to Virginia on Sunday, following a recent official visit. The 6'9" forward out of Eastside Catholic School in Washington is currently ranked as the 82nd overall player in the 2024 class, according to the On3 industry average.  He chose the Wahoos out of a final four that also included Ohio State, Southern Cal, and Washington. 
NEWS: 2024 four-star Jacob Cofie tells me he's committed to Virginia.

The 6-9 Power Forward chose UVA over a final group of Washington, Ohio State, and USC.

Story: https://t.co/XNacvRJwfi pic.twitter.com/ANKUSBzOIG

— Joe Tipton (@TiptonEdits) September 18, 2023
Jacob Cofie's Recruitment
Cofie was a popular recruit from the start.  He had been heavily recruited by several Pac-12 programs since early on.  All of the other finalists were in pursuit for some time. Virginia was the only newcomer to join the race over the summer, offering in July after Cofie had averaged nearly a double-double at Nike Peach Jam.  
Associate Head Coach Ron Sanchez is responsible for Virginia's involvement.  This is his first recruit since rejoining the staff in the offseason. He eyed Cofie all summer, leading up to the scholarship offer.  And then built a relationship to help put the Wahoos in position to close the deal.  
Cofie named the four finalists in late August. Washington, his hometown school, was probably the top competition in the end.  He had taken an early official visit there.  And they had recruited him really hard.  He was planning upcoming visits to Ohio State and Southern Cal, which are now canceled.  
What Jacob Cofie Brings to Virginia
He fills Virginia's most urgent need. They were very thin at the power forward spot.  That presents an opportunity for him to come in and earn playing time right away.  His natural position is in the four-spot, although he'll probably be used at center on occasion too. 
Cofie had a really good summer, averaging 11.5 points 6.5 rebounds and 1.5 blocks per game for NW Rotary in the Nike EYBL.  His game is well rounded, bringing versatility on both ends of the court.  He can stretch the floor, hitting 36% from three-point range.   And he has the physical tools to defend a wide variety of frontcourt players.  
Jacob Cofie is a 6'9 PF Class 2024 from Seattle, WA

☑️High School: Eastside Catholic
☑️AAU Club: NW Rotary Rebels

☑️Offers: Washington, Washington State, USC, Ohio State, Virginia, Colorado, Oregon. pic.twitter.com/wxfzB8HJJn

— Brooks Scouting Report (@ReportBrooks) July 26, 2023
Virginia wanted to add scoring punch in their future frontcourt.  Cofie certainly has the ability to bring that.  He's a high floor recruit who should be capable of contributing immediately, which UVA will most likely need him to do.  And in the years ahead, he has the potential to develop into a real stalwart in the Wahoo lineup.   
Virginia's Recruiting Going Forward
With the addition of Jacob Cofie, Virginia has 11 projected scholarship players for the 2024-25 season.  They're hoping to add one more.
Virginia has been in pursuit of two other forwards in the 2024 class, Matthew Hodge and David Punch. Both of them were scheduled for upcoming official visits.  With Cofie's commitment, it's very likely that Bennett will bow out of those recruitments.
Full attention turns to Kon Knueppel now.  The five-star guard out of Wisconsin Lutheran just completed a round of official visits, including a stop in Charlottesville this week.  He's the only 2024 recruit left on the board.  UVA is a strong contender for him.  Duke is seen as the biggest threat, with in-state schools Wisconsin and Marquette in the running as well.  He'll likely decide by the end of the month.  
The 2025 recruiting cycle is fully underway now too.  Virginia can only guarantee two open spots as things stand. They're after one guard and one forward.  
Local product Chance Mallory of St. Anne's Belfield is a prime early target.  He was on grounds recently for an unofficial visit.  As was Gonzaga (DC) guard Derek Dixon last weekend.  And Sidwell (DC) combo guard Acaden Lewis was in town this weekend.  
Grayson (GA) forward Jacob Wilkins, the brother of UVA assistant coach Isaiah Wilkins, has already scheduled an official visit for the weekend of October 14th.  Highland School (VA) forward Nate Ament is expected for an unofficial visit soon. And St. Thomas More (CT) forward London Jemison is one to watch too.  
The Wrap
The commitment from Jacob Cofie is huge for Virginia because it's the spot they absolutely had to fill.  A point guard and a skilled forward were the two non-negotiable items on Bennett's 2024 list.  With the earlier addition of Christian Bliss and now Cofie, they've filled those spots with quality recruits who fit well into the roster.  
Virginia continues to assemble a great collection of young players. They've managed to find a consistency in recruiting the last several years that really hadn't been there before under Bennett.  Now, we'll see if they can top it off by reeling in the big prize with Kon Knueppel's upcoming decision.  Either way, the future is awfully bright.