UVA Men's Hoops Season Preview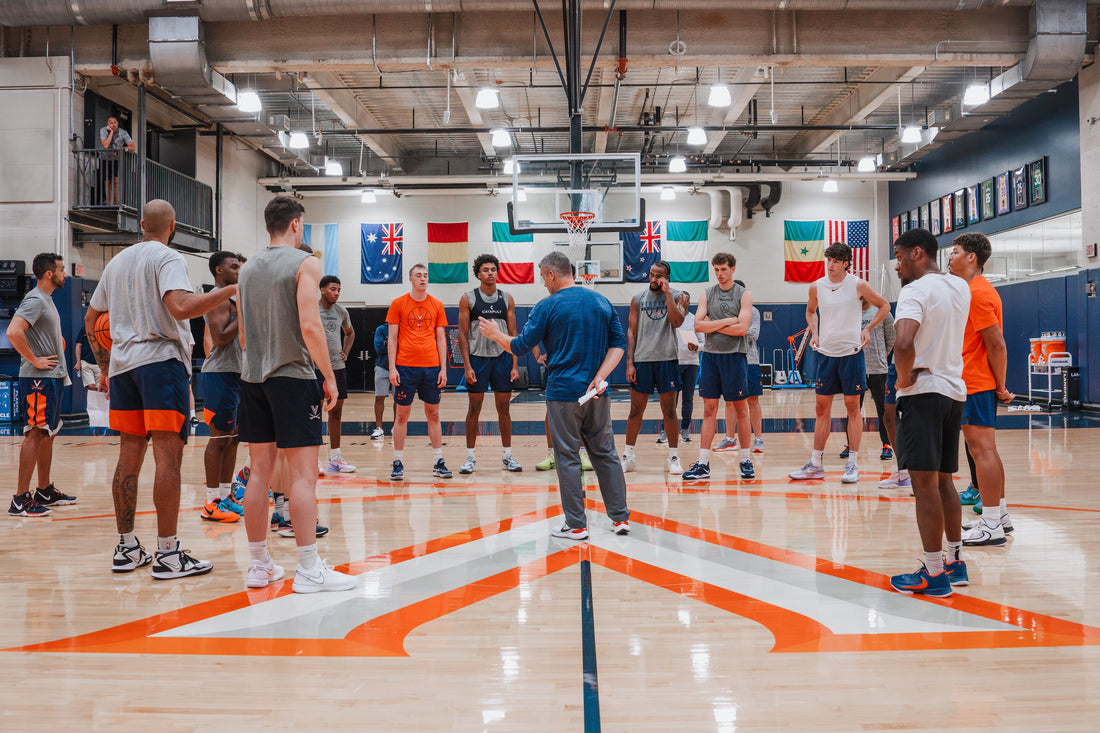 By Josh Burton
Last season was quite the ride for the UVA Men's Basketball team and its fans. From climbing all the way to #2 in the AP poll, to the heartbreaking first round exit of the NCAA tournament in the final seconds, the 2022-2023 team had fans on the edge of their seats the entire season.
With a lot of key contributors gone from that team, and the new season approaching quickly, we will be doing a full dive season preview of what to expect.
---
Big Man on Grounds
As most have seen by now, Reece Beekman has returned for his senior season to lead the Cavaliers one last time. Reece's decision came down to the wire as he was viewed a potential draft pick before ultimately deciding to return to the team.
This year will be different for him as it will be his first season without UVA great Kihei Clark to share point guard responsibilities with, but Reece knows the system very well and has shown great instincts and ability in his 3 seasons with the team so far. Reece enters the season with very high expectations.
---
Key Additions
Kihei Clark isn't the only player gone from last year, as the Hoos also will have to replace Armaan Franklin, Jayden Gardner, Ben Vander Plas, Kadin Shedrick, and Francisco Caffaro. With so much turnover from a season ago, Virginia had to recruit both incoming first years and transfer players alike.
Coach Bennett and company brought in ESPN top 100 recruits Blake Buchanan and Elijah Gertrude (numbers 63 and 100, respectively) and also center Anthony Robinson, a late signee who switched his commitment from South Florida to the Hoos this spring.
In the transfer portal, Virginia signed guard Andrew Rohde (St. Thomas), forward Jake Groves (Oklahoma) and big man Jordan Minor (Merrimack). Rohde joins the Hoos after all an All-Summit League First Team season in which he started all 31 games and averaged 17.1 points, 3.8 rebounds, 3.7 assists and 1.7 steals.
Groves comes in to presumably fill the stretch 4 role for the team, having averaged 6.8 points and 2.5 rebounds over 32 games for Oklahoma, including 22 starts last season. A career 33.9% shooter from 3 point range, Jake had his best season last year from behind the line averaging 38% on 3 attempts per game.
Last but certainly not least is Minor, the Northeast Conference Co-Player of the Year and Defensive Player of the Year last season. Jordan averaged 17.4 points to go along with 9.4 rebounds, 2.6 blocks and 1.4 steals on 51.5% shooting from the field last season. The biggest question coming in for him will be how well he adjust to playing the pack line and how quickly he can do so.
The Hoos also have Dante Harris, a midseason point guard transfer from Georgetown who had started in 29 games for the Hoyas in the 2021-2022 season, averaging 11.9 points and 3.6 rebounds. In his freshman season, Dante lead the #8 seed Hoyas on an unbelievable run to the Big East Tournament Championship, earning Most Outstanding Player and averaging 11.8 points, 4.8 rebounds, and 3.3 assists along the way.
---
Lineups
This season's lineup should feature 3 locks and then 2 positions that may take longer to settle. Fans can expect to go ahead and pencil in Reece Beekman, Isaac McKneely and Ryan Dunn into the starting lineup. Isaac averaged 6.7 points primarily off the bench for the Hoos while shooting over 39% from 3 last season, and Ryan Dunn is a potential first round draft pick who oozes potential as an ultra athletic 4 man.
From there, I believe the most likely to start alongside the trio of extremely talented Hoos is Andrew Rohde and Jordan Minor. Rohde would fill the 3 guard system Coach Bennett typically likes to deploy and could act as a secondary ball handler/offense initiator next to Reece, while Minor would fill the athletic rim protecting big duties.
This lineup offers more balance than we have seen the past few years where every player is in a natural position for their skill set. But coming off the last few seasons of having Kihei and Reece start in tandem, there is a blue print for Dante Harris to play alongside Reece as well. Also do not rule out third year Taine Murray or second year Leon Bond III, who took a redshirt year last season. These are 2 players who have been in the system for multiple years now and could use that experience to push for starting spots early in the new season.
Freshman big Blake Buchanan and Elijah Gertrude also figure to be in the mix for playing time inside the regular rotation.
---
Season Outlook
The entire schedule is not out yet, however we do have the full out of conference portion and we do know the ACC matchups be it without the dates. Virginia opens the season against Billy Gillispie and Tarleton State, before facing the University of Florida in a matchup in Charlotte later that week.
The Hoos will then host NC A&T and Texas Southern before heading to the Fort Myers Tip-Off to face Wisconsin in a tournament style event that also includes SMU and West Virginia.
New to ACC scheduling this year is the ACC/SEC challenge (replacing the ACC/Big Ten challenge) where UVA will host Buzz Williams and his Texas A&M Aggies. In December UVA will host NC Central, Northeastern and Morgan State while also visiting Memphis for a game on December 19th. The ACC season will also start in December, with Syracuse visiting Charlottesville December 2nd, and the Hoos traveling to Notre Dame on December 30th to face new Head Coach Micah Shrewsberry and former Cavaliers assistant Kyle Getter.
In January, the Hoos will host Louisville on the 3rd before back to back road games at NC State (1/6) and Wake Forest (1/13). January 17th will be the first Commonwealth Clash game of the season, as the Cavaliers will host the Hokies. From there they finish out the month at Georgia Tech (1/20), against NC State (1/24), at Louisville (1/27) and at home against Notre Dame (1/31) before beginning a tough final stretch of the season.
February will see the Hoos first travel to Clemson (2/3) followed by a big Monday night matchup with last season's Final Four team Miami (2/5). The Cavaliers will then play at Florida State (2/10) before back to back home games against Pitt (2/13) and Wake Forest (2/17). Another quick turnaround will come for the Cavaliers in the final Commonwealth Clash matchup as they travel to Blacksburg on February 20th to take on the Hokies. The month wraps up at Duke (2/23), home against UNC (2/26) and at Boston College (2/29).
The ACC tournament begins March 7th in Charlotte.
---
Final Thoughts
This season offers a lot of questions for the Hoos, but with so much talent and depth on the roster there is a lot of optimism as well. From Reece Beekman's senior year to what should be an exciting freshman class, this year will have a little bit of everything for UVA basketball fans.
Stay tuned for more updates and content as the season approaches!