UVA vs N.C. State Preview: Looking to Bounce Back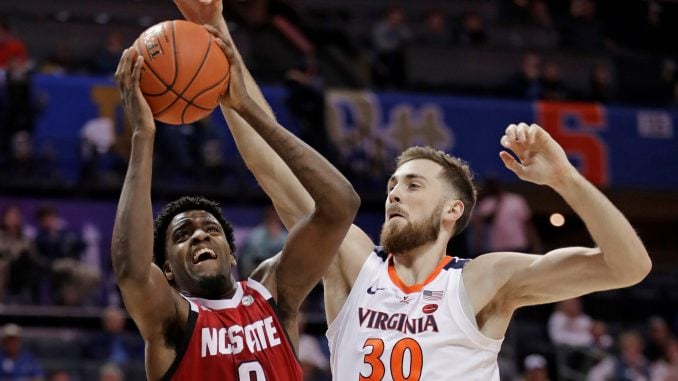 (Image - Nell Redmond - AP Photo)
Coming off a disheartening loss on Saturday, the Wahoos pick things back up tonight against the N.C. State Wolfpack at 9 PM Eastern Time. A team that has struggled mightily in ACC play this season, the Wolfpack will be hunting a signature win.
What N.C. State has done this season
With a 7-6 overall record (3-5 in the ACC), State has lost five of their last six contests winning just one game — against Wake Forest — so far in 2021. The Wolfpack have lost to Florida State, North Carolina, Clemson, Miami, and St. Louis in non-conference competition. Their only notable win came in mid-December over a then-struggling UNC squad. A resume like that means State will be desperate for a statement victory tonight when the 'Hoos come to town.
Breaking N.C. State down
The Wolfpack boast their own big three. Senior guard Devon Daniels, who tore his ACL last week, led them in scoring with 16.5 points per game but will be out for the remainder of the season. Big man DJ Funderburk, who chips in an additional 11.9 per contest, and wing Jericole Hellems, who puts up nearly thirteen-points per game, will need to pick up the slack. As a team, N.C. State shoots the ball fairly well. Guards Thomas Allen and Braxton Beverley can light it up from behind the arc. State could present some matchup issues for the 'Hoos. Specifically, if Funderburk is active, he could give Sam Hauser issues as the starting power forward.
Defensively, the Wolfpack are looking to force turnovers and generate easy looks for themselves on the other end. 13th nationally in defensive turnover rate per Bart Torvik, N.C. State has some nice length that can disrupt. Additionally, starting center Manny Bates is a great shot blocker and has grown accustomed to erasing easy looks on the backside. Considering UVA's recent issues touching the paint as a result of opposing teams' decisions to play off the guards, Bates could be a real problem for the Wahoos especially when attacking off ball screens.
Predictions:
UVA will win if: the 'Hoos can limit turnovers while touching the paint and getting Huff and Hauser more involved than they were against the Hokies on Saturday. On the other end, they'll need to stay out of foul trouble.
N.C. State will win if: the Wolfpack can push the pace and bother the 'Hoos with their length defensively while forcing the guards to beat them. Offensively, they'll hope to exploit a few of their matchup advantages.
Score prediction: UVA 68 - N.C. State 60