UVA vs Notre Dame Preview: You Again?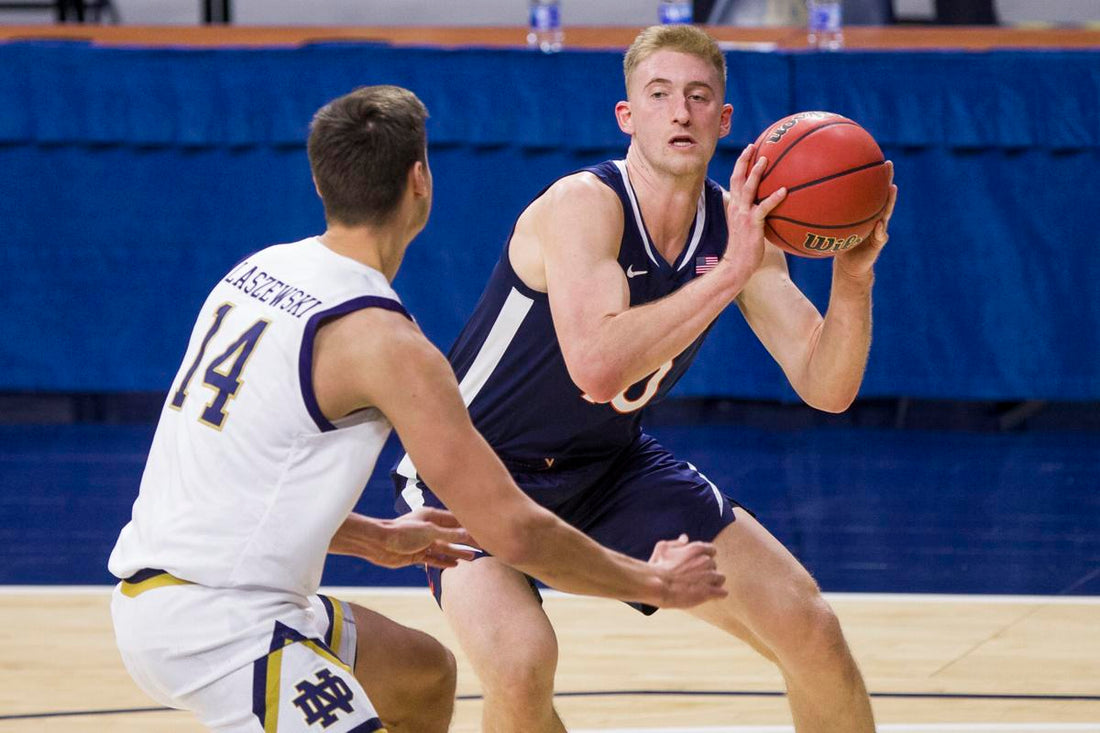 (Image - Associated Press
In their first rematch of the season, the Wahoos look to stay undefeated in ACC play as they tip off against the Notre Dame Irish for the second time in two weeks at 4:30 PM Eastern time. With a potent offense and a lacking defense, Notre Dame is a dangerous team if they're hitting shots.
What has Notre Dame done so far?
The Irish are 3-7 on the season with their only notable win coming against a flagging Kentucky team. They're currently winless in the ACC as they've lost their last three games. But, similar to Boston College, their record is deceiving. This is a talented roster that has been in a lot of close games so far this season but have just lacked that edge to put them over the top.
Breaking the Irish down
With Santa Clara transfer Trey Wertz gaining immediate eligibility to play in mid-December, the Irish have been running a roughly seven-man rotation. As a result of Wertz's eligibility, Mike Brey has been using a four-guard starting lineup with stretch four Nate Laszewski as the center while big man Juwan Durham as the sixth man who provides size off the bench. That lineup of starting point guard Prentiss Hubb, Wertz, wings Cormac Ryan and Dane Goodwin, along with Laszewski is deadly from behind the arc as all five guys shoot more than three three-point field goals per game.
That ability to space the floor and then the mobility that comes with a four-guard lineup with a stretch four at the five makes the Irish a dangerous team considering the issues that this Wahoo squad has had guarding ball screens. Trey Murphy and Sam Hauser will need to be able to stick with the quick Irish guards or else Virginia will be forced to play small ball which they've struggled with recently.
Additionally, Jay Huff's matchup with Laszewski is an interesting one as the 6'10" junior is constantly setting screens and popping off of them. Keep an eye on how the 'Hoos elect to guard the ball screens. If they decide to play drop coverage like they did against Boston College, Laszewski is a threat to slip and pop for a three. If they hedge out, Huff will need to disrupt the ball handler to give himself time to recover..
Prentiss Hubb is Notre Dame's leader, though, and Kihei Clark will have his hands full guarding a player who shoots upwards of fourteen field goal attempts per game. If Clark can shut Hubb down again, life will be much easier for the Virginia frontcourt.
On the other end, the Irish aren't all that intimidating. Laszweski can be exploited on the interior and Notre Dame has struggled to find their defensive identity as their individual defense is nothing to write home about, and their rotations tend to be on the slower side. Brey has elected to mix a bit of zone defense in at certain times and did so in these teams' last matchup, so it's very possible the 'Hoos see some of that again.
Predictions:
UVA will win if: the 'Hoos continue to be sound defensively and can prevent Notre Dame's small ball lineup from spacing them out too much. UVA's ball screen defense will be critical against the Irish who boast a number of different threats. On the other end, they just need to take care of the ball and execute their offense like they have been.
Notre Dame will win if: The Irish can hit from the perimeter and get Goodwin involved while taking advantage of VIrginia's suspect ball screen defense with Durham and Laszewski. Defensively, they're just hoping to survive.
Score prediction: UVA 69 - Notre Dame 58
Virginia will continue to roll in ACC play. Their defense is much improved even from where it was two weeks ago, so I expect them to continue on that trend while continuing to be efficient offensively as they feed their three best players.