Breaking Down Virginia's Recruitment of Isaac McKneely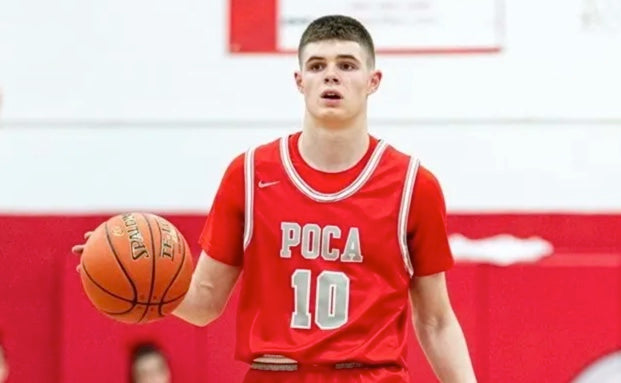 (Image - Chuck Roberts)
Isaac McKneely has announced that he will committing to his school of choice this Saturday at 2pm. From an interview from back in December with McKneely's high school coach, I broke down why he could be a great fit at UVA, UVA's pitch to him, and his strengths and weaknesses as a player:
Since Virginia played its last game on December 4th, the staff has been busy on the virtual recruiting trail. Notably, on the 5th, UVA and Tony Bennett offered their first two recruits of the 2022 class, Isaac McKneely and Justin Taylor. McKneely is a West Virginia native and has already listed Virginia in his final eight schools along with Kentucky, Louisville, Illinois, Indiana, North Carolina, Purdue, and West Virginia. He's already been on two unofficial visits to UVA, including one for last season's finale against Louisville. As of now, the 6'4", 175-pound McKneely appears to be Virginia's top target in the 2022 class.
Schematic similarities & benefit of previous relationships
Out of Poca High School in Poca, West Virginia, McKneely is incredibly familiar with the UVA basketball program and their schemes. In fact, McKneely's high school coach, Allen Osborne, modeled his entire system off of Virginia. "We run a lot of the same things that Virginia does," notes Osborne, "We play the Packline defense. We've used the mover blocker for the last two years."
Check out Isaac McKneely's Sophomore Season Highlights here!
Not only does Poca utilize those schemes, but Osborne was actually advised by the UVA coaching staff as he implemented the packline defense and the mover blocker offense back in 2018 when he returned to coaching. "I had the opportunity a couple years ago to come down and spend time watching practice," recalls Osborne. "We spent a lot of time watching film on the mover blocker offense and picked up a lot of good information. Their coaching staff has been very accessible which has been a big help for me"
The fact that McKneely has been playing in a system synonymous with Bennett's throughout his high school offers clear advantages for the 'Hoos in the recruiting process. Osborne adds that, if McKneely does choose Virginia, "he'll have a tremendous knowledge of what they do and how they approach things. It could be a big asset for him to come in and basically know their system."
As a result of the time Osborne spent with the staff in Charlottesville and previous recruitments of former Poca players Luke Frampton (Western Kentucky) and Elijah Cuffee (Liberty), Osborne and Poca already had an established relationship with the Virginia program. Specifically, after getting to know Osborne through Liberty's recruitment of Cuffee, UVA's Director of Recruiting/Player Development Kyle Getter has been the Poca head coach's top contact throughout McKneely's recruitment.
Recruiting pitch
As for Virginia's recruiting process with McKneely, they've been in contact with him for a while, but offered fairly late compared to a number of other schools on his list. "A lot of schools heard how good he is and they got in quick," notes Osborne. "But Coach Bennett and his staff have really broken game down. They've watched a lot of tape and you can tell they've made sure he can fit in their system." Osborne points out how "a lot of coaches -- even though Isaac is very capable of playing for them -- offered very quickly to make sure they got their name in the hat," but that, in contrast, "UVA has really analyzed him, analyzed his game, and developed a relationship with him. "
https://virginia.lockerroomaccess.com/product/vip-monthly-merch-box/
In regards to how Virginia sees McKneely as a prospect in their system, Bennett has compared McKneely most closely to Joe Harris. "They've talked to him a lot about Harris," says Osborne, "Kyle Guy as well." As the UVA staff always does, "they've shown him clips of our system and then a clip of UVA's system. shoot almost the identical shot coming out of the same offensive schemes." Osborne adds that the staff "have talked to McKneely about his strengths and weaknesses. They're very upfront, very honest, very transparent with him. I know he respects that and so does his family. He really likes the culture ." Osborne also emphasizes that "Coach Bennett has done a really great job recruiting . He's developed a relationship with him and the family. He's said to Isaac 'I see you can be a great player especially if you come here.'"
McKneely as a player and a person
In Cuffee and Frampton, Osborne has already coached two mid-level Division 1 players, but he sees McKneely at another level. "Isaac is really athletic," says Osborne, "he's growing and getting bigger and stronger. He's really athletic. He's a tremendous shooter and can score at all three levels. He can beat you off the dribble. He has the potential to be an outstanding defender," adding that "he's probably a notch above Frampton and Cuffee." Osborne adds that "he's really good with the ball and has good footwork coming off screens as well."
While McKneely has a laundry list of strengths, Osborne points out there are still a few things he's working on to become a more complete player. "He's really working on -- when shooting the ball --being consistent with his follow through. He's still working on attacking off the dribble," lists Osborne.
As for the defensive side of the ball? Osborne says that "he's got a shot at being a dominant defender," and that "we want him to be as dominant on the defensive end as he is on the offensive end." To do that, McKneely will need to improve at "guarding players, getting through screens, just the little things he's got to continue to focus on and develop."
Off the court, Osborne says that McKneely "is a great kid," noting that "he's an outstanding, 4.0 student." He also notes that McKneely fits UVA's pillar of humility perfectly, stating that "the thing I really like about Isaac is that he never talks about being recruited. He comes to the gym and never says anything to his teammates . I have to sit down and talk and talk to him to ask who's calling and who is in touch. He's very humble about it and, sometimes, is almost embarrassed about all the attention he gets." Osborne continues, saying that McKneely "comes from a wonderful family," and is "a great kid who gets along with his teammates. He's a team player. We've had problems getting him to shoot because he's very unselfish. He's just a great kid to coach."
The uncertain future
As McKneely's recruitment continues to heat up, the status of his junior season at Poca is uncertain. After the team had four practices in November, the governor of West Virginia shut down sports until January 11th. This means that their entire schedule has been moved back and that, compared to their fifty-six practices last season, they'll only have thirty-nine this season. "It's been a very difficult thing for our guys," says Osborne, "they've handled it really well, though, and have worked hard. Their attitude is good."
Once the Dots finally do take the court, it's apparent that McKneely will be leading a dangerous squad. Osborne notes that "our expectations are always high. We want to win our conference and compete for a chance at a state title. But, we don't set goals as far as winning and losing. We just want to get better every day and be the best we can be." For McKneely, Osborne says "we want him to be as good as he can be," emphasizing that "we really want him to get shots up."
McKneely is obviously a special prospect, and Virginia appears to be well in contention to land him as their premier 2022 commit.
With McKneely's decision coming this Saturday, stay tuned to Locker Room Access for more coverage.