My Championship Story by shaza_od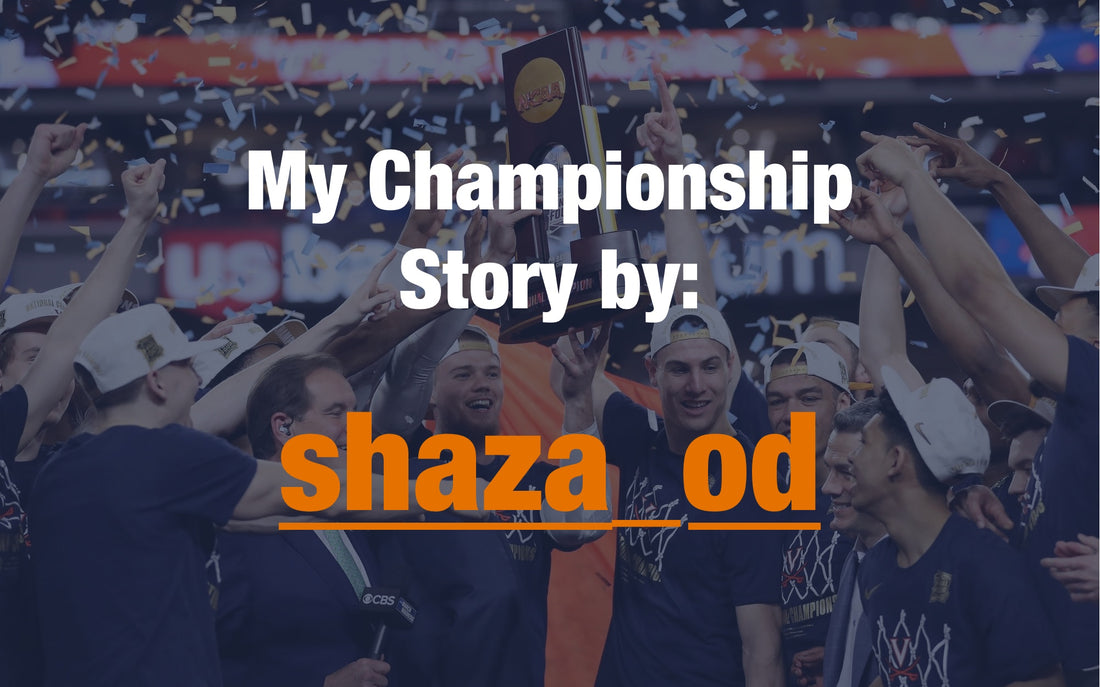 For me, it all comes back to my hometown — Stevens Point, Wisconsin. I was lucky enough to attend the Final Four and National Championship in person because my best friend from growing up in Steven Point had just moved to Minneapolis and offered me a place to stay. I knew I was scheduled to fly from Kansas City to Chicago for a work trip at 6AM on Tuesday, April 9, but I put that out of my mind for the time being and made the drive up to Minneapolis from Kansas City on Thursday. My dad, a 1980 UVA grad, had been allotted two tickets from the VAF so he drove over from Stevens Point to attend the games with me as well which was incredibly special.
In the week leading up to the Final Four, I was filled with so much excited energy that I had to channel it into piecing together UVA basketball pictures, videos, and soundbites to create a very amateur level iMovie piece as a sort of expression of how meaningful it was to make it to the Final Four:
But that anticipation was nothing compared to the emotional roller coaster of the National Championship weekend and what followed. I cheered louder than I ever have in my life. I experienced a noise-level that was so loud and overwhelming, it physically and emotionally drained me. I bawled my eyes out, thinking about what the championship means in the context of how UVA basketball has impacted my life beyond basketball. I let out spontaneous whoops of joy from a heart brimming with gratitude and exhilaration while dancing through the streets of Minneapolis to music from the "Miracle" soundtrack — the movie about the 1980 US Olympic Hockey Team that the gold medal.
After the confetti fell and the celebrations began, I knew I was going to miss my window to drive back to Kansas City to catch my 6AM flight to Chicago for my work trip. But I couldn't let me co-workers down so I hopped in my car at 1:30AM and drove through the night (don't worry I hadn't been drinking at all beforehand) and made it to Chicago by 9:30AM that morning. When we finished up our work in Chicago on Friday, I decided to drive to Stevens Point to relax with my parents instead of driving back to Kansas City right away. I was also excited to go back to where it all began — where Dick Bennett started his college coaching career that played a huge role in propelling Tony Bennett towards leading the UVA basketball program to their first ever national championship in such a way. While everyone in Charlottesville was celebrating at Scott's Stadium on Saturday, my dad and I made a pilgrimage to our local University of Wisconsin-Stevens Point's "Bennett Court" that's named in honor of Dick and his brother Jack. To top it all off, the local pizza place we stopped at afterwards had a picture of Rocky above the booth we ate in.
Being able to witness this team bring UVA's program history to such an epic peak was meaningful to me in a very personal way as well. I would not be the person I am today without the University of Virginia men's basketball program — and I don't say that lightly. During my time as a student at UVA from 2011-2015, I found inspiration and so much meaning in the Five Pillars and in the community of people who watched the games with me at a time when I was really struggling mentally, emotionally, and socially. The joy and connection I experienced from engaging with others around UVA basketball was exactly what I needed at that time.
From there, my engagement with UVA basketball only grew. I graduated in 2015 and began serving with City Year as an AmeriCorps tutor/mentor in an underresourced elementary school in Southside Chicago — a decision that I directly attribute to how I had reflected on and integrated the Five Pillars of UVA basketball into my life:
Knowing myself by embracing every part of who I am AND having the self-awareness to hold myself accountable to work on my blind spots.
Figuring out how to keep love as the spark at the core of what drives me in whatever I'm doing.
Building community with others around something that's bigger than ourselves.
Pouring myself into meaningful relationships with people so that we can bring out the best parts of each other.
Maintaining a level of thankfulness during the good times and during the not so good times, trusting that the dots will eventually connect down the road in a way that will allow me to learn and grow.
Even though I knew serving with City Year would be intense and unlike anything I had ever experienced, I felt secure in the foundation that my understanding of values gave me. The fact that City Year also has a set of strong core values (which have threads that are very similar to the Five Pillars!) also gave me the confidence that City Year would support me and challenge me to grow in multiple dimensions. And wow did it ever. I met the most incredible people and shared experiences with them that bonded us for life. UVA basketball and the Five Pillars were never far from my mind. One of the most meaningful moments I had with a student actually came from the Youtube video that Justin Anderson shared on Twitter in the previous year after having to undergo an appendectomy just before he was scheduled to return from being out with a broken finger:
This student just couldn't seem to catch a break that year and was really struggling internally, so we watched the video together and talked about it afterwards (she did most of the talking; I listened). Just before the final bell rang, she asked for a piece of paper and began writing furiously about what some of the quotes from that video meant to her so that she could always come back to it. It was a real breakthrough in our relationship and in how she felt about herself, what was happening in her life, and what she was doing.
Now I'm thinking back to what Tony shared in a press conference about what his dad said when he was asked about whether making it to the Final Four in 2000 was one of the greatest feelings in the world: "From a feeling state, euphoria, yes, it is. But it doesn't compare with faith, with kids, family, grandkids because I know what truly matters, it enables me to enjoy what seems to matter, like this." Witnessing this team win a national championship, especially in the wake of the UMBC loss last year, was an incredible experience that I'll remember for the rest of my life. But there are things that hold even more substance for me. It's really awe-inspiring to trace back all the ways in which threads of UVA basketball and the Five Pillars have influenced so many parts of my life — all of the people I've met and how they have impacted me, where I ended up after college, how I have grown, what I have learned, who I have become… It's a little overwhelming to think about, let alone to try to articulate. Anyways, I may have been encouraged to write this reflection because of something outside of myself, but that was just the impetus to get me to engage in doing something that's internally meaningful to me. Thank you Locker Room Access and everyone who's becoming a part of building this community! (and if you made it this far, wow, you're honestly a legend lol I'm signing off now)
By: shaza_od