Jay Huff as a Passer? How UVA Tamed Clemson's Pressure Defense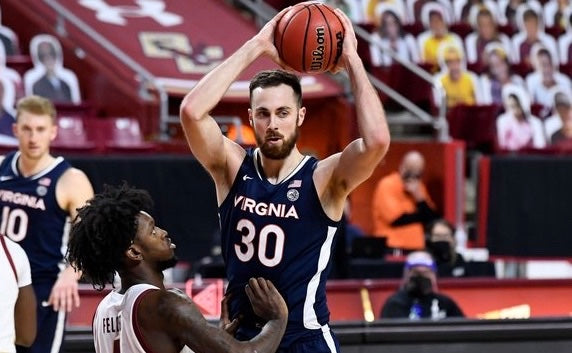 (Image - Brian Fluharty - USA TODAY Sports)
Jay Huff is many things. A highlight reel worthy finisher at the rim, a next level shot blocker, an occasionally deadly three shooter, a husband, and a lumberjack, but never much of a passer. That changed Saturday against Clemson as the UVA coaching staff made the conscious effort to utilize Huff as a passer. While this decision in and of itself is a fascinating one, the value that — as Chris Havlicek has so lovingly named him — the 'Florist' working at the point of the offense is a result of a prior adjustment Virginia following the Gonzaga loss.
Increased shot attempts to establish the threat
In ACC play and, more specifically, the last two games, Jay Huff has significantly increased his three point attempts per game. To be precise, in non-conference play, Huff averaged 1.7 three point attempts per game. In ACC play, he's shooting 4.2 threes per game with 14 total attempted three pointers in the last two games. It's clear that the coaching has encouraged him to take threes when he has the space to do so. He's shooting more difficult shots than he did in previous contests. Nonetheless, despite taking those fourteen threes in the last two games, he still shot 43% from deep in those two contests.
That tendency to shoot immediately off the catch has opened up the Virginia offense and, especially in their three man motion set, has provided space on the interior for guys like Sam Hauser and Kihei Clark to go to work. Because opposing big men have to be up in Huff's grill when he's on the perimeter as a catch-and-shoot threat, the paint is much more open. But that's not the only benefit of Huff pulling bigs onto the perimeter.
Taking advantage of the spacing
UVA took their exploitation of Huff's magnetism to a new level against Clemson. Known as an overly aggressive defensive team hoping to turn their opponents as much as possible, Clemson came into Saturday's contest ranked seventh nationally in caused turnover rate. The Tigers look to deny passes on the perimeter and will face-guard off ball to try and stunt offenses.
To counter Clemson's defensive pressure, UVA used Huff as a safety valve of sorts. Since they'd established him as a threat to shoot with even minimal space off the catch, the Tiger big men played up on Huff throughout the game. So, whenever the 'Hoos were struggling to move the ball against the Clemson defense, they'd throw Huff the ball at the three point line where he'd work at the point of the offense finding cutters off the ball. The guards would show towards him looking for the ball before violently back-cutting their defenders towards the hoop.
On four separate occasions, this look generated fairly open made buckets at the rim for UVA guards. While his five assists versus Clemson were easily a career high, Huff proved himself to be an accurate and intelligent passer out of this look. These cuts were premeditated. But, he read the defense well and delivered passes that generated easy looks.
Even though Virginia only went to this look a handful of times, its effect on the game was real. In fact, after the game, Tony Bennett mentioned that "you saw us get some back door pressure releases which really loosened things up and then we started hitting shots," and noted that they're looking to stretch the floor with their big men. As Bennett said, by beating the Tigers off back cuts, the 'Hoos forced Clemson to play off them a bit more on the perimeter which opened up shooting space and driving lanes.
How does this look fit into the regular offense?
This isn't a component of any offense Bennett has run in the past. Huff holding the ball at the point of the three man motion offense isn't uncommon. But, in that set, he's looking to pass off to either Hauser or Clark in the middle or one of the wings on either side. This set is essentially a five-out look that begins when Huff catches the ball and ends once he's passed it off.
Since this look is meant to hurt Clemson's pressurized defense, it likely won't be an often recurring offensive set. Against another pressurized team defense like Florida State's, UVA could use Huff in this same look. But, it likely wouldn't have the same effect against teams that are playing more relaxed defense. Still, Huff's growing threat as a catch-and-shoot guy will continue to yield more positive results as a result of the more spaced floor and his general proficiency as a three-point shooter.
These adjustments and the implementation of this new set are examples of the type of tweaks the UVA coaching staff has made in the wake of the Gonzaga loss. They're continuing to scheme their guys open depending on the opponent and the individual matchups on the floor while doing the same, but in reverse, defensively.
This willingness to try new things and cater to this roster's strengths is paramount to this team's potential this season and, as of now, all signs indicate that UVA will only continue to improve with Bennett and co. pulling the strings behind the scenes.