Seven Storylines from Virginia's Win over Loyola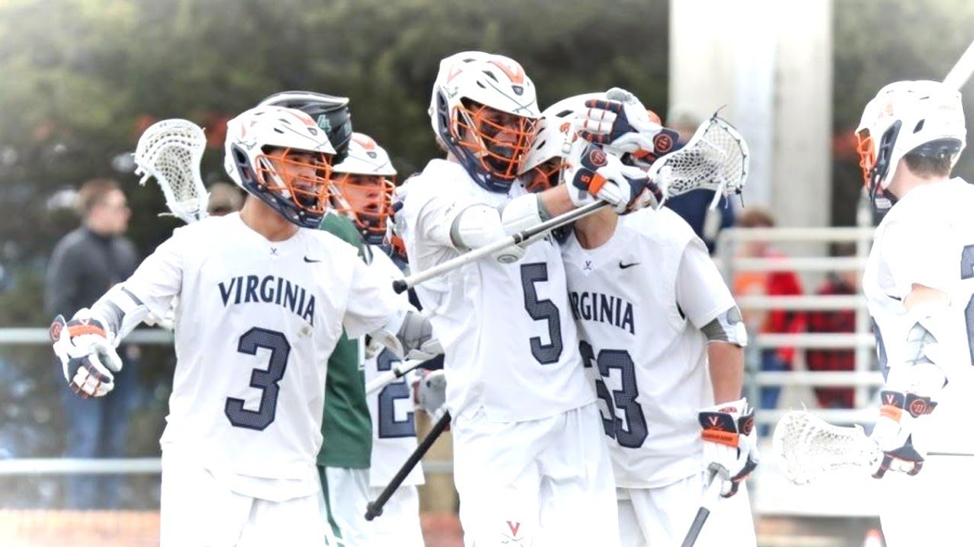 On Saturday afternoon, the reigning National Champions opened their season in the friendly confines of Klöckner Stadium with a 12-9 beating of #14 Loyola. The banner was raised, and the 'Hoos picked up where they left off, jumping out to a 9-3 halftime lead, before the Loyola zone defense slowed the Cavs down. Coupled with the stingy defense, Loyola rattled off seven straight face off wins in the third quarter to pull themselves back within striking distance. Fortunately, Virginia was able to hang on and quell Loyola's momentum. With one game in the books, here are the top storylines.
This offense is a matchup nightmare
With over 80% of last year's scoring returning, this offense is extremely capable, as it boasts three elite dodgers in fourth years Dox Aitken and Michael Kraus and third year Matt Moore. Those three, coupled with third year off-ball finisher Ian Lavianop, are the four returning starters who present matchup nightmares for opposing defenses. No team in the country has the long stick defenders to compete with the firepower of Aitken, Kraus, Moore, and Laviano.
While those four are ridiculously good, part of what won Virginia the National Championship last year were the contributions of now-graduated Ryan Conrad and Mikey Herring, who combined for 48 goals and 36 assists. With those two gone, it'll be critical for others to fill those roles and be a threat to keep defenses honest.
Payton Cormier is a legit fifth option
The apparent top answer to who will fill that complementary role comes in the form of redshirt first year Payton Cormier. A left-handed Canadian attackman, Cormier has begun the transition to midfield. In his first game at Klöckner, Cormier netted three goals, two off feeds and another from his knees of off a nifty wing dodge that Saturday's SportsCenter's Top 10. As is typical for Canadian lacrosse players, Cormier's box lacrosse experience is of great value as he works as an inside finisher while also attacking from the wing. Cormier's continued development and growing comfortability in the UVA offense will make this group that much more dangerous as he can attack the short-stick defenders.
First years step up
While redshirt first year Cormier had a big day, a number of true first years also saw their first action. Offensive midfielders Peter Garno and Michael Bienkowski each notched their first career goals, and close defenders Quentin Matsui and Scott Bower each got their first start, while their defensive counterpart Jake Giulleri came in during man down situations. Defensive midfielder Danny Parker also saw his first run, and face off specialist Gavin Tygh took two draws.
All this goes to say that, even despite #1 recruit Connor Shellenberger redshirting this season, this should be a decent first year class that will contribute to this team's success. It's unclear as of now to who will fill the remaining reps at offensive midfield, so expect Garno and Bienkowski to get ample opportunity to prove they belong. Bower could see extended time as a starter, but Matsui will likely head to the sideline when second year defenseman Kade Saustad returns from injury. That said, he and Giulleri will still provide depth at close defense when necessary. With the loss of defensive midfielders Corey Harris and Dave Smith (not to mention Ryan Conrad), Parker will also get a chance to solidify his role as a short stick defender. Tygh's reps will likely depend on how last year's hero Petey LaSalla fares at the faceoff x. If LaSalla stays above a 50%-win percentage (58.7 % last year), I doubt Tygh gets much action. That said, faceoff depth can be critically important, so the depth the 'Hoos boast in LaSalla, Virginia single season ground ball leader Justin Schwenk, and #5 faceoff recruit Tygh, is heartening.
Zone defense presents an issue
With the score at 8-3 midway through the second quarter, Loyola made the switch to a 3-3 zone defense to try and negate Virginia's advantage in attacking individual matchups. On top of that, the zone worked to force the offense to score by way of scheming, something the 'Hoos don't necessarily excel at. Don't get me wrong, offensive coordinator Sean Kirwan is a very good coach, but his system is predicated on winning those individual matchups, and going from there. So, when a defense sets up in a zone, the Cavs have to scratch everything and scheme up new sets.
While it all worked out on Saturday, it's clear that the 'Hoos will see a great deal of zone defense this season considering their superior dodging talent. With that in mind, it's good that they have to face this issue early on so that, hopefully, they can get comfortable against the zone and force opposing teams to pick their poison.
Alex Rode has the potential to take a leap
The Final Four's MVP last season, Rode picked up right where he left off, stopping nineteen shots, including thirteen in the first half alone. Rode kept the 'Hoos alive early when they were losing faceoffs, and then held the fort down as he worked with two first years in front of him. In his third year now, Rode has the potential to take a leap to an elite level as he steps into the role of the defense's leader. He's built up a great deal confidence from his performance last season and from his newfound job security as a result the transfer of Patrick Burkinshaw, who competed with Rode for the starting job last season. In fact, for the first time in his career, Rode entered the season as the undisputed starter, and it shows.
The loss of Conrad
In addition to his complementary role in the offense, Ryan Conrad was a do-it-all midfielder for the team last season. Most notably, he worked as a one-man wrecking ball in the clearing game, and a ground ball machine off the faceoff wings. In his absence, the 'Hoos failed to clear five times and went 10-24 at the face off x. Those aren't terrible numbers, but from watching, it's evident how different this team is without Conrad in the middle of the field. Guys like John Fox and Dox Aitken can try and fill some of the gaping hole Conrad left, but this is going to have to be a team effort to replace one of the most versatile lacrosse players in the modern game.
Defensive patchiness
Significantly aiding Loyola in their comeback, were the seven penalties committed by the Cavaliers on Saturday, resulting in three goals off of man up advantages for the Greyhounds. That's a few too many penalties, especially considering a few of them were so unnecessary. Notably, Laviano's blatant slash on a Greyhound defender, moments after the defender threw the ball, was inexcusable. Committing penalties on an offense coached by (former UVA assistant) Marc Van Arsdale is essentially asking to be scored on.
Outside of the penalties, the graduation of Logan Greco and the absence of Kade Saustad were apparent, as Loyola found too many open looks at the cage off of simple actions that sent the Virginia first years scrambling. With Saustad's return (likely) coming soon, that backline should sure itself up, but until then the inexperience of this defense will be an issue.
All in all, this was a good win against a decent opponent that identified a number of possible improvements for the Wahoos. Next up, the 'Hoos faceoff at home again next Saturday against Lehigh 1 pm.