Virginia Adds Transfer Point Guard Dante Harris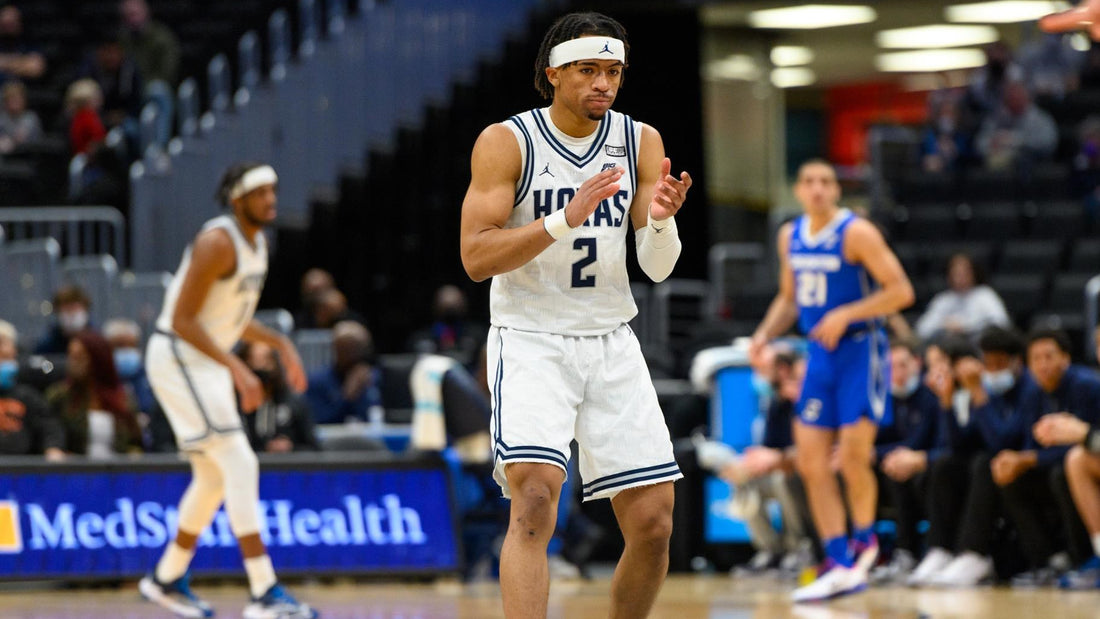 Tony Bennett reached into the transfer portal early this year. Georgetown transfer Dante Harris announced his commitment to Virginia on Sunday. The 6'0" point guard played two seasons for the Hoyas. He averaged 11.9 points last year, along with a team-leading four assists. Harris will redshirt this season, then have three years left to play including the extra year due to the pandemic.
About Dante Harris
Harris went to high school at Lakeway Christian Academy in Tennessee, where he was coached by former UVA star Curtis Staples. A prolific scorer there, averaging over 30 points, he was a finalist for the Tennessee Mr. Basketball award. Despite the accolades, Georgetown was his only reported scholarship offer from a high-major program.
He quickly moved into the starting lineup early in his freshman season, and went on to make 50 starts for the Hoyas. The highlight of his time there was being named Most Outstanding Player of the Big East Tournament in 2021 when Georgetown made a surprising run to the title.
While productive, he wasn't very efficient offensively. He only shot 38% from the field last year, 28% from three-point range. Some of that is surely due to being so heavily relied on as a young player. His career 80% free-throw percentage indicates he's a capable shooter. He's had big games, showing he can be really good. It's just a matter of continuing to mature and becoming more consistent.
He left the Georgetown team before the season, reportedly for personal reasons. Then entered the transfer portal on December 3rd. His recruitment was handled very quietly. The announcement comes after he was on hand for Virginia's game on Saturday. While he could apply for a waiver to play this season, the plan is for him to redshirt this season.
It's an important pickup for Virginia. He fills their most urgent need for next season. They had to bring in a point guard, at minimum to backup Reece Beekman. As an experienced player, he also provides insurance in case Beekman opts to turn pro after this season. Reece has shown up on mock draft boards recently, as high as the late first round in ESPN's projection. .
Virginia's Recruiting Going Forward
With Harris added, Virginia has 10 projected scholarship players for the 2023-24 season. That's been the minimum acceptable number under Bennett. I expect they'll be active this Spring looking for another late addition or two. It's somewhat dependent on stay or go decisions from players after the season, including the two current seniors who have the option to return.
As the chart shows, they're still thin on the frontline for next season. Recent indications are they'll be in the market for something in the range of a power forward to center. Reports have tied them to a couple of unsigned seniors. While that could be a possibility, another transfer is preferable. Look for a big man to be their priority when the portal fills up this Spring.
2024
Class of 2024 is the main focus on the recruiting front. The coaching staff has done good early work setting the table. They seem to be recruiting for four spots. Things should start turning serious with some of them by this Spring.
Even with Harris on board, finding the next point guard is still the first priority. Daniel Freitag from Minnesota and Travis Perry out of Kentucky both hold offers. Assistant coach Kyle Getter has made multiple trips to see each of them in recent months. Wisconsin is the main competition for Freitag right now. For Perry, it looks like Purdue and Michigan.
They're seriously involved with two wing players. Isaiah Abraham from Paul VI (VA) has been down for a couple unofficial visits. And Bennett is after a prized recruit from his home-state of Wisconsin, Kon Knueppel. He's scheduled to be in town for an official visit in February, the weekend of the Duke game.
Forwards Caleb Williams from Sidwell (DC) and Jarin Stevenson from Seaforth (NC) were both courtside for Saturday's game. It was the third unofficial visit for Williams, and I believe the fourth for Stevenson. Michigan seems like a team to contend with for Williams. As for Stevenson, it's between the Hoos and Tar Heels.
And the three most recent offers have all gone to centers. The latest went to Patrick Ngongba,a cousin and Paul VI teammate of Isaiah Abraham. Sycamore (OH) big man Raleigh Burgess visited a couple weeks ago. And assistant coach Orlando Vandross is working hard for Thomas Sorber out of Archbishop Ryan in Philadelphia.
The Wrap
The coaching staff pulled this one off in stealth mode. I never caught wind of any involvement until Friday. Always fun to get a surprise recruit. He should be a nice piece to the puzzle in the years ahead. It's a really good addition in that he not only addresses an urgent need, but does so without interfering with their high school recruiting plans.
(Featured Image Credit: Georgetown Athletics)