Virginia vs Illinois Preview And Storylines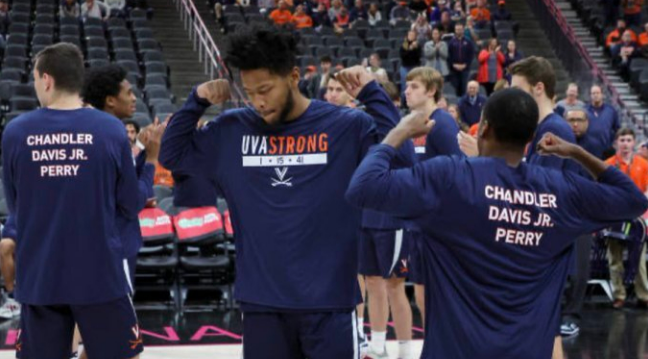 16th ranked Virginia and 19th ranked Illinois will meet on Sunday for the championship of the Continental Tire Main Event in Las Vegas. Tipoff is scheduled for 3:00 PM Eastern, televised on ESPN.
They both knocked off Top 10 opponents to advance. Virginia handled 5th ranked Baylor convincingly, and Illinois pulled away from 8th ranked UCLA.
About Illinois
Head Coach Brad Underwood has brought the Illini program back to national relevance. His teams have finished the last three seasons ranked in the Top 25, which they hadn't accomplished in the 11 seasons prior to his arrival. This year's squad enters at 4-0, having just passed their first challenge with a 79-70 win over UCLA.
The Virginia and Illinois rosters have been built in contrasting ways. While UVA returns 91% of its scoring from a year ago, Illinois returners only accounted for 14% of its scoring from last year's Big Ten regular season co-champs. Yet, they're really good again. Thanks to high-profile transfer additions and a great group of freshmen.
Illinois Personnel
It all starts with Texas Tech transfer Terrence Shannon (24.3 PPG). The 6'6 senior guard was incredible against UCLA. He poured in 29 points while hitting 8 of his 9 three-point attempts, and grabbed 10 boards for good measure. He had never made more than four three-pointers in a game before. So, hopefully we won't be in for a repeat on Sunday. But he's a handful. The biggest key to the game is whether UVA can find a way to keep him contained.
The rest of the Illinois guard rotation is made up of young players. Freshman point guard Skyy Clark (7.5 PPG) was a prized recruit, originally a Kentucky commit. He's joined in the starting lineup by sophomore RJ Melendez (5.3 PPG), their best perimeter defender. Two more freshmen are key contributors off the bench. Point guard Jayden Epps (10.0 PPG), a Virginia product out of Suffolk, can heat up in a hurry. And Sencire Harris (6.3 PPG) was terrific in the 2nd half against UCLA.
It's a tight three-man rotation up front. Junior center Coleman Hawkins (10.0 PPG) is the one impact player left from last year's team. A very skilled player, he'll take an open three and is actually leading the team in assists at 3.8 per game. The other two are both transfers from Baylor. Forward Matthew Mayer (6.5 PPG) is in his fifth season. He's a stretch-four who'll do most of his damage from behind the arc. And sophomore Dain Dainja (16.3 PPG) is fantastic in the paint, currently shooting an absurd 86% from the field.
Breakout Seniors
Virginia's Armaan Franklin and Terrence Shannon of Illinois have a lot in common. Both are transfers who've already been very productive players for multiple years, but now seem to be making the leap to stardom as seniors.
Shannon is in a much bigger offensive role than he ever had at Texas Tech. So far, he's thriving in it. He looks like one of the best players in the country in the early season. As Illinois figures things out with some of their young pieces, maybe Shannon won't carry as heavy of a burden. But for now, they're very dependent on him.
Armaan went for a career-high 26 points against Baylor on Friday. He's Virginia's leading scorer at 18.3 PPG. His confidence is really high right now. He's shooting well and scoring in a variety of ways. It's great to see. He's on track to have that breakout season we've all hoped for.
Neither player is likely to keep up the pace they're on for a full season.. But if either of them bring Friday's magic, that team is probably coming out on top.
Size Advantage
Illinois is a big athletic team, especially on the perimeter. They'll have a height advantage of several inches at each starting guard spot. It'll be a real challenge for UVA. Underwood's teams always play hard defensively. They're disruptive with their ball pressure and have done a nice job turning opponents over so far.
It'll be important for the Virginia guards to keep their poise. This won't be a comfortable game for them. We could perhaps see more of freshman Ryan Dunn. He played well in his brief stint on Friday. This is a matchup where his size and athleticism could come in handy.
High Stakes
Both teams probably feel like they're playing with house money after great wins on Friday. But there are still big stakes to play for. Whoever comes on top should easily be ranked in the Top 10 next week. And more importantly, getting two wins of this quality is a huge separator come NCAA Tournament seeding time.
It'll be interesting to see if both teams can come out with the same focus and intensity that they had on Friday. If so, this will be another very high-level game. No matter what happens, the weekend has been a success for Virginia. They quieted the doubters, that's for sure. With the stiff non-conference schedule ahead though, it'd be nice to grab another resume win now
(Featured Image Credit: Matt Riley/UVA Athletics)