Takeaways from Virginia's Early Season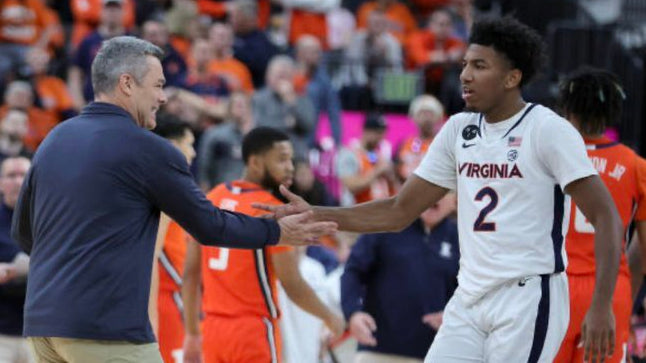 Virginia's season is off to as good of a start as anyone could have hoped for. Sitting at a perfect 4-0, they have an early resume that no one can match thanks to two quality wins in Las Vegas. And as of Monday, a well-deserved top 5 ranking to show for it. Along the way, we've learned a few things.
Underestimated Again
Everybody expected UVA to be an improved team this season. Just how much better they would be was up for debate. The consensus seemed to be a solid Top 20 team, but not quite all the way back to the vintage Bennett-era level. Early returns suggest they've been underestimated, even by the most bullish predictions. .
Improved shooting is a big part of it. But they also showed against Illinois that they could win without a three-point barrage. The new pieces have helped. Ben Vander Plas has made them more dynamic offensively. Above all though, it's been the strides taken by returners that's made the most difference.
It's only November. And Virginia did have the advantage of returning nearly their entire rotation, while other teams are integrating more new pieces. There's a long way to go. It's important that the Hoos continue to improve. But after Las Vegas, it's clear that once again people have underrated Tony Bennett's team in the preseason. They're worthy of the ranking, and will be a contender for the ACC title.
Hoos Redshirting
We learned in the first week that two of Virginia's freshmen are planning to redshirt this season. Bennett said before the season opener that the plan was for Leon Bond to redshirt. And then by the second game, forward Isaac Traudt was added to the list.
Traudt was the surprise. He would have been very capable of contributing, but the logjam up front made it hard for him to earn playing time. It's an understandable decision on his part to conserve his year of eligibility. Both he and Bond can spend the season focused on individual development without worrying about preparing for games.
With the increase in transfers and so many players taking advantage of the extra covid year, freshmen don't have as much of an opportunity to play as in the past. That's not just at UVA, that's all around major college basketball. It's a hard choice to redshirt. And it's tough for fans. We'll need to wait another year to see Leon and Isaac play. But it should pay big dividends for everyone in the long run.
Nine Deep
Tony Bennett's ideal rotation seems to be a core group of seven, then two others in situational roles. That's exactly what this year's team has settled into. The starters along with forward Ben Vander Plas and guard Isaac McKneely make up the first seven, all getting consistent time. And then center Francisco Caffaro and freshman wing Ryan Dunn are in those situational roles, where their minutes can vary.
Usually it feels like Bennett spends the entire non-conference schedule trying to figure out the rotation. And sometimes that never happens. it's rare to have it so solidified this early. The two freshmen are where things could change. As they continue to get their feet under them, they'll have an opportunity to move up. Otherwise, the roles are pretty firmly set.
Vander Plas Is A Difference Maker
Ben Vander Plas is a lot more valuable to UVA than most of us thought he'd be. His presence opens the floor offensively, and his ability as a distributor is a very underrated part of his game. In his time at Ohio, he was very productive in their games against top competition. We all remember one of those. That held true in Las Vegas, as he averaged 11 points and 6 boards in 24 minutes. He's become another go-to option, especially in late-game situations.
He's the 6th man, but he's really been part of Virginia's A-lineup. Bennett has gone to him to close out all their competitive games so far. I thought it was particularly noteworthy on Sunday that Vander Plas and Jayden Gardner shared the court when the Hoos pulled away late for the victory over Illinois. That had been a bit of a question, whether they felt comfortable with that lineup. Well, Bennett showed that he was when it mattered most.
Reece Has The Keys
Reece Beekman is getting all kinds of accolades after his big weekend in Las Vegas. He was named as the event's MVP. Also the ACC Player of the Week. And he suddenly has the NBA Draft gurus speaking his name too.
Virginia fans have been clamoring for him to be more assertive offensively. Well, we're seeing that now. He has a 23.2 usage rate so far, up from 15.6 a year ago. To translate, that means he's had a hand in the result of almost 50% more offensive possessions. Meanwhile, Kihei Clark's usage has dipped to 17.6, the lowest since his freshman season. They're still playing together a lot, but the roles are much different.
This is Reece's team now. That might be the most important development of the early season
(Featured Image: Getty Images)