What Makes Joe Harris so Valuable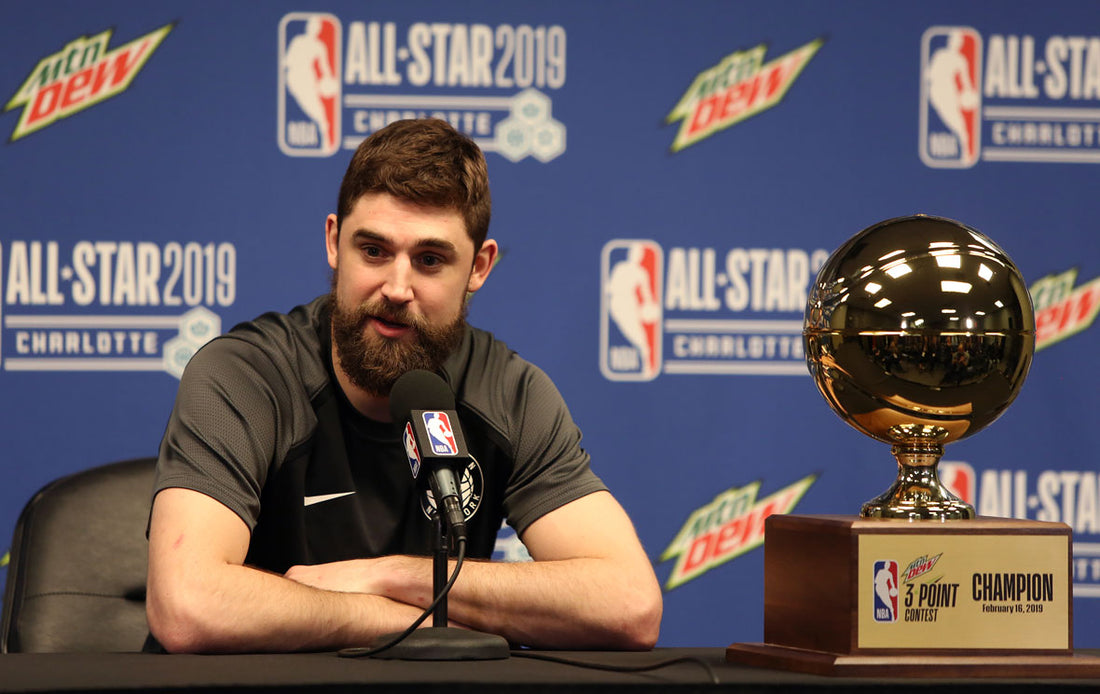 Over the past season or so Joe Harris has cemented himself in the Nets' starting lineup. The 6'6, 220 Lb. Virginia alum found himself a role as a complementary piece to some of the more ball dominant stars in the NBA. To be successful with such players, teams in the NBA need to have guys surrounding the stars that can make an impact on the game while not dominating nor needing the ball. This is exactly the role Harris has developed for himself, as his shooting stretches the floor for his elite teammates.
Playing with D'Angelo Russel last year, Kyrie Irving this season, and KD and Kyrie next year, Harris has and will continue to play with some of the best players in the league, and will have a plethora of open looks as a result of his teammates' play.
His shot is well noted. On top of winning the 3pt shooting contest at last year's All-Star Weekend, Harris led the league in 3 point shooting last season at 47.4%. More than that though, the type of shots he's taken are what make him so valuable. On 322 catch and shoot 3s last season (24th most), Harris shot a league best 48.1%, making 155 (8th most). Harris is adept at capitalizing on those opportunities his teammates created for him.
What makes those catch and shoot numbers so important is that Harris doesn't need a high number of dribbles nor a high volume of shots to make his mark on the game. A 17% usage percentage, 296th in the league last year, defines how Harris is so efficient at letting others do what they need, and then playing off of them.
Part of the misconception about Joe Harris is that, as the league's best shooter, that's all he is: a shooter. While 51.6% of Harris' shots last year were from 3, another 27.9% of them were from 3 feet or closer. Joey Hoops has taken his deep shooting strength and translated it to success at getting to the rim. As teams worry about his deep ball and quickly extend out to contest, Harris pulls a pump fake, maneuvers around his man and finishes at the rim. In fact, he shot 64.6% from 3 feet and closer to the hoop last year, epitomizing the concept that shooting threes and shots from 3 feet and closer is the most efficient type of play.
To go with that driving ability, Harris has begun to display a proficiency for making reads off of the bounce. His assist numbers have never been gaudy, hovering around 2 assists per 36 minutes at a 10% assist rate for his career, but the ball doesn't die in his hands. He either takes the best shot available, or moves it to a teammate to find a better shot.
Harris' versatility also stands out. Throughout his career, he's roughly split his time between playing shooting guard and small forward, 51% to 45%. Through 3 games this season, Harris has actually played 18% of his minutes as a power forward in a smaller Nets' lineup, attempting to take advantage of offensive spacing and the ability to switch defensively. Harris points out that "A lot of is coming back, rebounding, being able to understand the coverages when you are in a four or five position," but even more so, this implies some of Harris' athletic ability that often goes unnoticed.
Harris can guard different positions, but has still struggled a bit defensively throughout his career, owning a 113-defensive rating over his 6 seasons. The Nets have struggled defensively the last couple of seasons, last year posting a relatively disappointing 110 defensive rating. Harris isn't necessarily a liability, as much as he is a product of being a slightly below average defensive player on a mediocre defensive team. Some of that versatility regarding Harris' position can be critical though, as it allows for the Nets to play more of those small-ball lineups that can be so effective offensively.
On top of all the analytics though, Harris' humility is what stands out. From the get-go, he's admitted "I was pretty self-aware as to what type of player I was going to be and which guys I was trying to emulate and play like." More valuable though, is that Harris never gets too high, and never gets too low. He knows who he is and isn't absorbed in the stats or the hype, but on playing winning basketball.
Off the court, his initiative with Hoops2O, the NBA sect of Waterboys, has only furthered his value as a player and a person to an organization such as the Nets.
Not such a bad dude.
Through 3 games this season, Harris is hitting on 52% of his 3s, and is averaging 13.3 PPG. So far, so good.
Outside of shooting, what do you guys think Joey Hoops' biggest strength is? Let me know! Also, if you get a chance, check out the Brogdon Fan Page on Instagram @brogdonfanpage.