Big Man Anthony Robinson Commits To Virginia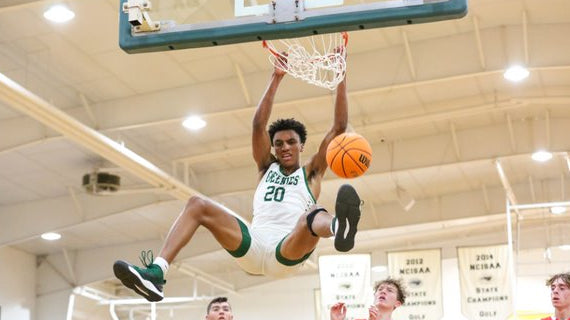 Tony Bennett made a late addition to his 2023 class today. Christ School (NC) center Anthony Robinson announced his commitment to Virginia, following an official visit. Previously committed to South Florida, Robinson reopened his recruitment after the coaching change there. He reportedly also considered Georgia and Vanderbilt.
About Anthony Robinson
Anthony Robinson helped lead Christ School, located in Asheville, to the state championship this past season. He was a late bloomer who didn't pick up his first Division-1 scholarship offer until last summer. South Florida landed his commitment in September, until Robinson backed out after Head Coach Brian Gregory was let go this Spring.
Virginia had shown interest in Robinson the first time around. He's continued to improve to the point where it was apparent that South Florida had gotten a steal. Thus, the involvement from UVA and other high major programs this time.
Robinson is a traditional big man. He's a very fluid athlete at 6 '10 who embraces a blue-collar role. While not someone you run offense through, he's a reliable finisher around the basket and aggressive on the glass. He should develop into a good rim protector on the defensive end, and his excellent mobility fits really well into Bennett's packline scheme.
There's a good chance he'll end up redshirting his first year. That's a decision that will be made later. But by the 2024-25 season, things will really open up with incoming freshman Blake Buchanan as the only other true big man left. For Bennett and staff, the opportunity to bring in a high-upside piece for the future was too good to pass up.
Virginia's Recruiting Going Forward
With the addition of Anthony Robinson, Virginia now has at least 11 scholarship players for next season. Reece Beekman, currently testing the NBA Draft, could potentially make 12. He has until the May 31st withdrawal deadline to decide whether to return.
Virginia has everything they need for next season. There's two open scholarships. One, they'll want to save for Beekman's potential return. His decision could go down to the wire. And they'll also want an available scholarship in case a 2024 recruit decides to reclassify later, such as Seaforth (NC) forward Jarin Stevenson.
Attention Turns to 2024
It's all about the 2024 class now. The biggest change with the addition of Robinson will be Virginia's pursuit of big men. They've offered three centers in the class. Raleigh Burgess of Sycamore (OH), Thomas Sorber of Archbishop Ryan (PA), and Patrick Ngongba of Paul VI (VA). It's likely that UVA's pursuit of those players will dry up, as the coaching staff redirects their attention toward filling other needs.
Seaforth (NC) forward Jarin Stevenson is obviously a top target for the Hoos. There's a lot of excitement over him right now following his recent official visit. While it looks promising, his recruitment could go on for a while yet. He's planning to decide around July. North Carolina remains the prime competition.
Christian Bliss seems to be emerging as a priority recruit at point guard. The George School (PA) floor general hasn't received a scholarship offer yet, but that's probably coming after this weekend's live evaluation period. He recently took an official visit to Villanova. They look like the team to contend with so far.
Bennett wants a wing in the class too. UVA is seriously involved with two players in that slot. Isaiah Abraham of Paul VI (VA) has visited multiple times. And Kon Knueppel out of Wisconsin Lutheran visited back in February.
What's Next
Coaches will be back out this weekend for the second Spring live period. There should be some new scholarship offers made next week as a result of the past two weekends. And things will start to intensify on the 2024 front from here. Many recruits will plan official visits for the weeks ahead, as we get into the hot zone for potential decisions between now and the July AAU period.
The late cycle is winding down, but recruiting never stops. We'll have it covered all offseason long on Locker Room Access
(Featured Image Credit: Christ School Athletics)