Evaluating Malcolm Brogdon's First 10 Games as a Pacer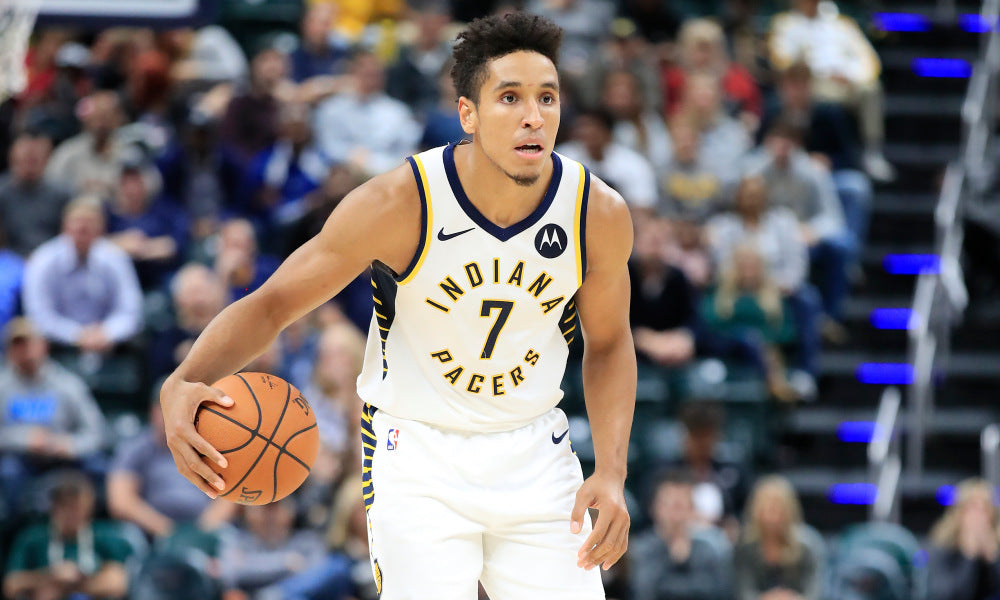 Malcolm Brogdon is off to a hot start. Currently averaging 20.8 PPG, 8.9 APG, and 5.2 RPG, he's bumped his raw numbers as he has flourished in the role of the primary initiator and ball handler for the Pacers. His turnover numbers have increased, up to 3 per night, but that's what comes with a more significant role, and playing in an injury ridden rotation. More difficult shots, namely fewer catch and shoot 3s, have resulted in his 3-point shooting dropping below his norm, currently at 31.1%. A slew of injuries has forced Brogdon to take on an even larger role as he's had to shoulder the load on most nights. More than anything though, Brogdon's fist 10 games in a Pacers uniforms have been phenomenal as he's done the utmost to prove that he can be the leader of a team and can be relied upon to be the #1 guy on offense.
Perhaps the biggest question mark surrounding Brogdon before the season was whether or not he'd be able to be the initiator of an offense and if he'd be able to distribute the ball to his teammates. Through ten games, he's averaging 8.9 APG (3rd in the league) to go with a ridiculous 39.7% assist rate (8th in the league). He also holds a 3/1 assist to turnover ratio, committing only 3.1 turnovers per night on only a 14.6% turnover rate.
When it comes to being the initiator on offense, Brogdon has a 27.1% usage rate, leading the Pacers. He also has posted 23.5 PER (Player Efficiency Rating), once more, leading the Pacers. In a few of the most recent games Brogdon has actually been able to lean on his teammates a little, especially the bench unit, but in the long run it will be about how well Brogdon can lead this team until Victor Oladipo returns from injury.
In isolation, Brogdon is scoring 1.12 PPP (Points Per Possession) on 25 possessions, good for 3rd in the league among players who have had 20 or more possessions in isolation, only behind Damian Lillard and Kawhi Leonard. He's advanced his offensive repertoire and is blossoming into an offensive player very few thought he could ever be.
As predicted, Brogdon has been shooting a higher volume of shots so far this season as he is tasked with a more significant role. Up to 16 FGA a night from 11.7 FGA last season, his true shooting percentage (measure including free throws, 2-point FGs, and 3-point FGs) has dropped from 61.4% a year ago to 57.6%. That is primarily due to a more difficult range of shots that Brogdon has been taking (and making) so far this season.
In fact, the improvements he's made have been extremely encouraging. While shots in the restricted area and from behind the 3-point line are the most efficient shots in basketball, with more touches, particularly as the ball handler in pick and roll sets, Brogdon has shown a proficiency for hitting mid-range jumpers. Last season Brogdon only shot 3.3% of his shots from between 16ft from the hoop and the 3-point line as he concentrated on shooting at the rim (49.3% of attempted FGs) and from behind the arc (32.6% of attempted FGs). This season though, he is taking 22.5% of his shots from 16ft to the 3-point line, shooting an extremely efficient 47.2% from that range. In comparison to last season, he's already hit 12 more shots from that range in 10 games with the Pacers than in 67 with the Bucks last year.
His 3-point shooting numbers have regressed so far this season from last, shooting only 31.1% from 3 so far this year. That said, he's taking much more difficult shots, and in many cases has to create those opportunities for himself and others, rather than being able to rely on someone else to get him looks. My assessment of his 3-point shooting right now is that he's just in a bit of a slump. Teams are concentrating on him primarily on offense as guys like Domantas Sabonis, Myles Turner, Jeremy Lamb, and Victor Oladipo have battled injuries. Malcolm is also playing 5 more minutes a game through 10 games than he played last year, so tired legs could also be part of his inefficiency from deep. As long as he keeps getting shots up (and hits daggers like he hit on Sunday night) his 3-point shooting should improve as the year progresses.
Brogdon's free throw shooting has remained elite, shooting 97.9% from the charity stripe, 46-47 overall. His 46 makes are good for 10th in the league and he's increased his volume of free throws, from only 2.4 FTA last year to 4.7 FTA through 10 games this season.
Defensively, Brogdon has been as expected. While yet to take on a really significant challenge, for the most part, he's eased concerns that he wouldn't be able to guard quicker point guards. On a few occasions he's even made suggestions to the coaching staff regarding defensive schemes that they've implemented and been successful with.
Brogdon's steal numbers are up to 1.2 per game from 0.7 last season, and he has been more active on the defensive boards, grabbing 4.5 a night compared to 3.5 per game last season. Really though, he remains untested this season against elite talent and the coming stretch including games against Chris Paul, Russel Westbrook and James Harden, Eric Bledsoe, another game against Kyrie, and Trae Young should provide a more accurate litmus test for how he'll fare going forward on the defensive end.
Brogdon has been one of the best players in the NBA so far this season as he is currently 10th in individual win shares, 26th in PPG, and 3rd in APG. This level of production should and will need to continue as the Pacers look to Brogdon to take on the role of a veteran presence on the defensive end, who can incorporate everyone into the offense, while also going out and getting his. It's been a great start for him and for the 6-4 Pacers (following an 0-3 hiccup), now it's all about building upon what they've started.
Thanks for reading! If you get the chance, check out the Brogdon Fan Page on Instagram (@brogdonfanpage) and follow me on Twitter (@zachcarey11) for more coverage on Brogdon and other Hoos in the NBA!
Subscribe to our Youtube channel for new episodes of Hangin with A Hoo featuring Braxton Key and coach Johnny Carpenter!