Five Takeaways from the 2020-2021 UVA Basketball Season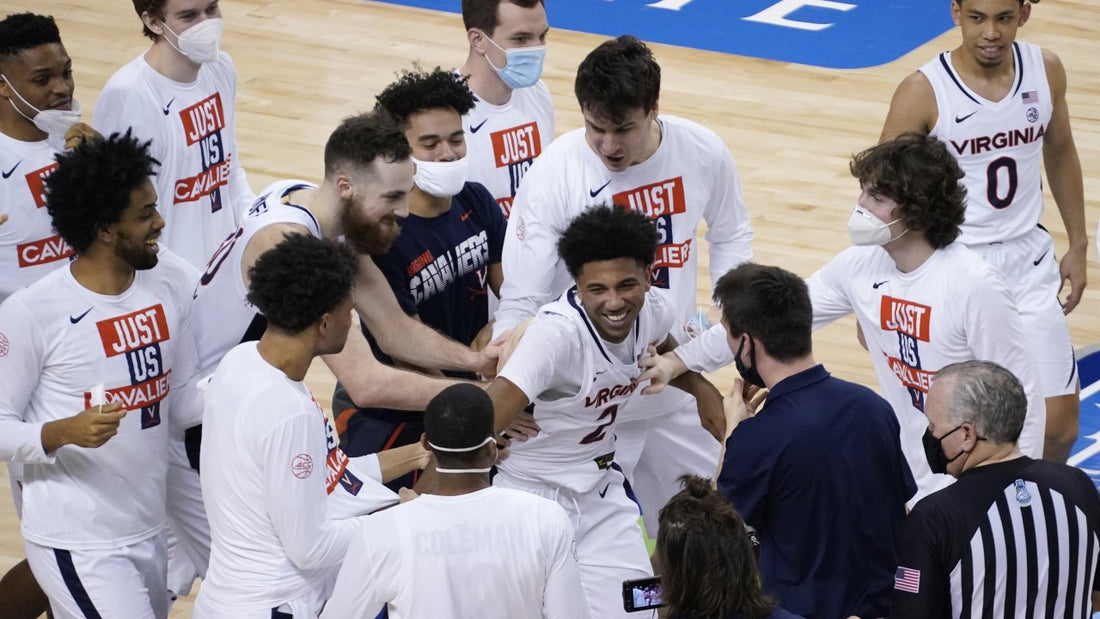 With Virginia's season over for a week now, it's time we looked back at the year that was and what it can tell us about the future of this program. As such, I have five takeaways from the 2020-2021 season for UVA basketball moving forward.
UVA basketball will always be at the top of the ACC with Bennett at the helm
If the last two seasons have told us anything it's that, with Tony Bennett on the sideline in a UVA polo, the 'Hoos will always be competing at the tippy top of the ACC. While both the 2020 and 2021 squads might not have performed as well on the national stage, the conference definitively runs through Charlottesville.
Looking back over the past eight seasons since 2014, it's hard to imagine a better run. With five regular season titles, two ACC Tournament titles, a .807 conference winning rate, two Elite Eights, a Final Four, and a National Championship, we are in the golden age of UVA basketball with Tony Bennett at the helm.
Losing in the first round sucks, it does. But any long term concerns raised from this team's performance this season ought to be lessened by taking that quick glance at the last seven calendar years of success.
This was not one of Bennett's best teams talent or result wise since he's been at UVA. Yet that is indicative of just what we as a fanbase have come to expect of this program considering that the 'Hoos finished first in the ACC.
Preseason expectations did this team a disservice
The national media and a fanbase's expectations can be cruel mistresses. Whereas surpassing or even meeting them proves a team's success, failing to do so indicates a failure on a larger scale that may not actually exist.
We're now at the point where whenever Tony Bennett boasts a squad remotely competitive expectations will be high. That's not a bad thing and tends to hold true. But problems arise when a team is heralded as a national favorite in the preseason and then still has a great deal of success yet fails to meet those lofty and unrealistic predictions.
Instead of counting our lucky stars that the 'Hoos won another ACC Regular Season title, the UVA basketball fanbase is left licking its wounds after a first round loss and likely offseason drama. Yet without that presumptive hype this season is likely considered much more of a success than it is being spun as considering the team's true ceiling.
A modern frontcourt raises questions for the future
In its makeup, this roster was unlike any other that Tony Bennett has coached at Virginia. With the majority of the shooting and scoring coming from the frontcourt, the staff had to find unique ways to generate more opportunities and touches for their big men.
Huff and Hauser in particular carried the Virginia offense all season long as their presence on the perimeter bucked the trends of UVA's traditional system.
Frankly, I feel that the offensive system could've utilized both Huff, Hauser, and Trey Murphy better this season, but that's beyond the point. Where this matters is the future mold for Virginia big men. Long gone are the days of an Isaiah Wilkins and Jack Salt pairing playing solely to solidify the defense and screen for guards on offense.
While 7'1" centers who shoot 39 percent from three don't grow on trees, the Virginia staff is going to continue to focus on bringing in offensively minded big men. Look no further than the class of 2022 as the staff's top target — 6'9" skilled stretch four Isaac Traudt — fits the same mold as Sam Hauser.
The question that arises
That shift is great. The question, though, is how to effectively utilize that talent in the frontcourt. This season there was some good experimentation from the staff with the implementation of a 5-out offense and a stretch of reliance on their triangle offense. Eventually, opponents figured out how to defend the 'Hoos in these alternative sets or it became evident that UVA didn't have the right personnel in the backcourt to make it work.
As tends to happen, by the end of the season the team was running its traditional mover blocker offense for the majority of possessions. That's not a bad offense per se but it didn't generate enough touches for Huff and Hauser considering how imperative they were to the team's success on that end of the floor.
Granted, the options in the backcourt limited the opportunities to fully utilize Hauser and Huff. Ball screen sets became a non-starter once opponents realized they could sink off the guards on the perimeter, go under screens, and solely focus on sticking to the big.
Still though there's going to need to be additional effort put into scheming up an offensive system that can cater to these talented bigs as the 'Hoos look to bring in more and more of them.
There is a desperate need for shot creators in the backcourt
While the offensive talent in the frontcourt on this roster has implications for the program in the short and long term future, so do this squad's struggles in the backcourt. The Kihei Clark and Reece Beekman pairing simply didn't work, and that's not necessarily by much fault of their own.
Rather, their fit as two point guards who look to pass first and struggle to hit from deep (especially when opponents force them to) in one lineup is poor. As they were the two best guards on this roster, it's hard to blame anyone for playing them together — it's just how it is.
This season, the scoring in the frontcourt alleviated those issues. But, with potentially all three frontcourt starters gone by next season, the reliance on these two guys will skyrocket. In the short term this could be fixed by a guard transfer who could at least play alongside Clark and Beekman and provide a scoring punch.
But, in the long term, the need for shot creators and play makers in the backcourt is critical. Fortunately, the staff has already addressed this to a certain extent. With UVA's lone 2021 commit Taine Murray, the future of the backcourt shooting is looking up. In 2022 commit Isaac McKneely the 'Hoos are getting a guy who can create for himself and hit at a high rate from deep. And, of course, the recruit Bennett has singled out as the heir to Beekman's throne, Austin Nunez, is known for his Ty Jerome type range.
The young talent is behind schedule
Perhap the most impactful takeaway for this program in the short term, the young talent on this roster is behind schedule. In years past years, underclassmen played critical parts in UVA's success and proved themselves as building blocks and stars for the future. But, this year, we didn't see evidence of much of that.
It really isn't any one individual's fault in this sense. Rather, as a collective, the young talent on this roster hasn't broken through yet. Not to name names, but looking at each underclassman (eligibility wise) on this roster, the trouble is quite clear.
Second years (eligibility)
Having announced his entry into the transfer portal, Casey Morsell has played the most of the bunch and earned plenty of opportunities as he's shown flashes in certain contests for short stretches. His defensive potential is obvious and he could be a solid complementary offensive piece down the road.
But his shooting is a far cry from the proficiency he displayed in high school and he's struggled to make plays outside of the occasional midrange pull up jumper. It's a shame to see him go, but outside of a few brief heroic plays there wasn't much to indicate a leap in production from the Maryland native
Justin McKoy came on late in the season as he improved on the defensive side of the ball especially as a small ball five. He has some craftiness offensively and established himself as a rotational cog by the end of the year. That's good especially considering how little he played last year and throughout much of this season. Again though, there isn't much to suggest that he's on track for a career of stardom at Virginia.
Francisco Caffaro fits into a similar category as McKoy but perhaps with a bit less upside. He's been a decent stop gap center to provide physicality when Jay Huff was in foul trouble. He has good feet defensively and may be a better pick and roll defender in the traditional Bennett packline system than Huff was. But in reality Caffaro doesn't add much to a lineup as he's not much of a post scorer. Obviously the comparison for him is Jack Salt which tells the story of why he's unlikely to see major minutes down the line as UVA shifts towards favoring a more offensive talented frontcourt.
First years
Carson McCorkle essentially redshirted this season. Coming off a foot injury from his senior year of high school, McCorkle likely lost opportunities due to a condensed offseason both as a result of the injury and COVID-19.
Jabri Abdur-Rahim is roughly in the same boat as McCorkle. Suffering a foot injury that prematurely ended his high school career, Abdur-Rahim didn't have the best lead up to his first year on Grounds. That said it appears he also just wasn't quite ready for the speed of the college game this season. It's very possible that he looks elsewhere this offseason. But, if he does stay in Charlottesville, then hopefully he'll have adjusted in practice as this season progressed and can breakout next year into a role as a consistent contributor.
Kadin Shedrick's potential is obvious to anyone who's seen him play. His height, length, and mobility make him a prototype center in Bennett's defense while he's only just scratched the surface of his offensive skill set. His issue has unfortunately been staying healthy. The redshirt first year struggled with mono this season and never truly recovered after catching it in the fall.
The exception to all this is Reece Beekman. Bennett's top target in the 2020 class, Beekman established himself as a starter early this season. His savvy decision making, ball security, and sound on ball defense meant that the Wisconsin native earned real minutes in short order. While he never quite hit his stride as a scorer, he proved essential in facilitating and incorporating the bigs into the offense. Just a first year, Beekman is going to get the keys soon as the point guard of the future.
Fallout
But, all in all, with just one player of the seven underclassmen from this season a sure bet for starter's minutes next season, the 'Hoos are going to need to rely on the transfer portal once again as there isn't much star potential among the young guys.
This is concerning since this program's relies on getting old and staying old. When the young talent is behind schedule and the graduating class carries the roster especially offensively finding stop gap solutions in the transfer market is necessary,
However you look at it, with the looming implementation of immediate eligibility for transfers, the portal is booming. That will likely hurt the 'Hoos with some of these young guys deciding to move on (Morsell being the first of potentially more), while it could also prove essential as Virginia hopes to reload following a large number of significant departures.
All in all, this was another good year for UVA basketball. Now, this will be an offseason of uncertainty and drama with outgoing transfers, incoming transfers, NBA Draft decisions, the final wave of 2021 recruiting, and the ramping up of 2022 recruiting.
The program is still in a good place, but there are going to be moments of panic and uncertainty over the next few months as Bennett and his staff look to rebuild for the future. To stay up to date and in the know throughout this hectic period be sure to stay tuned to Locker Room Access blog for a number of upcoming offseason stories from me and to our forum for all the transfer and recruiting news you'll need from Hooz Got Next.
(Image - Gary Broome - AP)