Five Takeaways from UVA's Loss to Ohio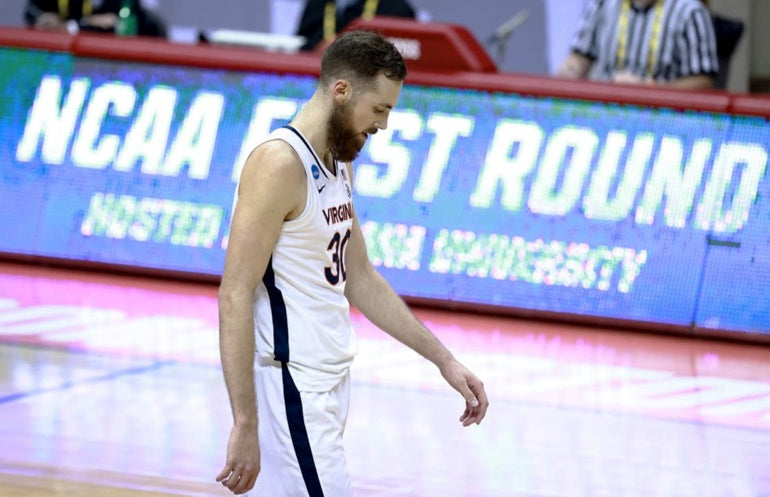 So, here we are. After more than a week of hoping, praying, and wishing that UVA would get the chance to tip off in the NCAA Tournament, the 'Hoos dropped their first round contest to the Bobcats on Saturday night. With the loss and the conclusion of Virginia's season I have five key takeaways from UVA's loss to Ohio.
Ohio made shots and Virginia didn't
Despite all the hoopla, NCAA Tournament games tend to come down to a few key things. Above all else, shooting determines just about everything in March. Hot shooting can carry mediocre teams far while cold shooting tends to doom even the most talented squads.
That was evident on Saturday night as UVA's shooting woes from the last few regular season games and its ACC Tournament appearance carried over. On the outing the 'Hoos shot 25.8 percent (8-31) from three-point range. In particular, the three most experienced players on the team Sam Hauser, Jay Huff, and Kihei Clark combined to shoot 3-17 from deep. Trey Murphy — who shot 4-8 from the bonus-sphere — was the one hot-shooting outlier but was limited due to some iffy foul trouble.
While Ohio wasn't all that much better than Virginia shooting the ball — 30.4 percent on 7-23 shooting from deep — their best players made the necessary plays and shots down the stretch. Ben Vander Plas' 10 points in the final eight minutes of play carried the Bobcats when they needed offense.
Additionally, while Virginia contained Jason Preston as a scorer (11 points on 4-7 shooting), he made his impact elsewhere. Finishing just two assists shy of a triple double, the darling NBA prospect among non-Gonzaga mid majors this season nabbed 13 rebounds and dished out 8 helpers as he propelled the Bobcat offense all night long.
This UVA roster relied on making jump shots all season long. It lacked go-to scorers who could get to the rim or create easy looks. That was sustainable for a while, but once the 'Hoos started missing from deep, it was game over.
Bottom line, while Ohio's stars made plays in the closing minutes, Virginia's didn't. It's a harsh reality especially in relation to UVA's last tournament run, but that's just how it goes sometimes in these single elimination tournaments.
The defense was on for most of the night
While the offense struggled for much of the game, the defense was on for the majority of the contest. Reece Beekman and Kihei Clark did a good job guarding Preston and forced him to create for others. Beekman is further proving just how elite a defender he will be down the line. He guarded some highly talented point guards in the final stretch of the season with a good deal of success.
Sam Hauser also was very good on Vander Plas for much of the night. His ball screen defense in particular is much, much improved since the beginning of the season. He was able to navigate the various pop and slip actions Ohio runs well and was solid as an on ball defender against his crafty childhood friend. Of course, Vander Plas made a number of big plays late in the game. But, all in all, Hauser played well defensively and furthered his case as an NBA prospect.
The team defense on the night was also decent. Despite the referees sidelining Jay Huff with some ticky-tacky foul calls, the team survived for stretches of time without their eraser on the back end. The balancing act between a small ball lineup and Francisco Caffaro at the five was difficult though.
Justin McKoy's absence was no doubt a big factor as his improvement on the defensive end this season gave the team a boost off the bench. Additionally there were a few breakdowns on the backend late in the game that broke Virginia's back late in the game. Those will drive the coaching staff nuts.
But, at the end of the day, the defense did what it needed to do. The 'Hoos contained Preston as a scorer and forced other guys to make shots while not letting anybody get too hot. The problem was that this was UVA's worst raw offensive output since an ugly win over Georgia Tech in February as Virginia scored just 0.948 points per possession. In fact, in raw PPP and adjusted offensive rating this was the 'Hoos third (PPP) and second (ADJO) worst offensive showing this season.
First round struggles are an unfortunate, ongoing trend but not the be all, end all
Far too often basketball fans and analysts alike utilize a loss in March to re-evaluate or re-discuss the standing of a program. Some of the reaction to UVA's loss to Ohio on Saturday has been far too extreme. The last eight year stretch has likely been the greatest run in the history of the UVA basketball program.
That said, this first round loss does fit into a theme for this program of late. While nobody can question Virginia's success in the regular season nor its capability of winning in March, the struggles in the first round of the NCAA Tournament persist.
Some of this is a bit systematic. Granted, with a roster like that of 2019 that is hitting on all cylinders, UVA's continuity based offensive system can be ridiculously efficient and practically unstoppable.
However, issues arise when the roster is unique — like this one — and the program's fairly rigid reliance on a few different sets limits the offense particularly in a single elimination setting. Specifically, without defined playmakers and shot creators in the backcourt this team struggled in the continuity based sets that rely so heavily on the guards to make plays. Perhaps finding additional or more efficient ways to utilize the talent in the frontcourt could've addressed this squad's reliance on jump shooting.
Of course struggles in the first round of the NCAA Tournament are not isolated to this squad. Rather, in all but one of Virginia's appearances in the tournament with Bennett at the helm the 'Hoos have faced fairly significant deficits. That's not wholly attributable to scheming. Frankly it's a bit inexplicable how this program continues to come out flat in first round contests.
Nevertheless, this was just one game. To make some broad declaration regarding the program's standing is ignorant of the issues that this individual team faced and of the ridiculous success Tony Bennett has established as the norm for this institution.
This was one heck of a senior class
To take a step back from this individual result, this loss concludes the careers of a number of people who have been integral to Virginia's success over the years.
Most notably, this was Jay Huff's final game in his five year, storied career as a Wahoo. Originally a part of the loaded 2016 class that brought the program its first National Championship, Huff took a bit longer to hit his peak in the orange and blue. But, this season, Huff reached the heights that the fanbase dreamt of when he committed. Now, he'll turn his sights on the NBA Draft where he ought to have a good shot at sneaking into the second round.
Austin Katstra has now finished his four seasons as a walk-on in Charlottesville. The fanbase will undoubtedly miss his spirited, choreographed bench celebrations that characterized the attention detail he and his fellow walk-ons put into their jobs every single day.
Tomas Woldetensae filled a need as a shot making guard for two straight seasons at Virginia. It's a shame that COVID-19 hampered his two seasons at the Division I level. Still, Woldetensae should now have a variety of opportunities overseas as he takes his playing career to the next level.
Managers Matt Palumbo and Carter Furr are the unquestioned unsung heroes of this team and have been for a while. Each performs essential tasks on a daily basis and the staff and players will miss their experience and familiarity with the program moving forward.
Last but certainly not least, Sam Hauser's lone season playing for the Wahoo faithful is now over. While the Wisconsin native appeared in just 25 career games for UVA, he's made his mark on the program as both a player and a person and should impact the roster configuration moving forward. It's a shame Hauser had only one marred season of basketball in Charlottesville but he's on to bigger and better things as he'll look to make an NBA roster this summer.
With another season in the books, we move forward
Now that the pandemic-ridden 2021 season is over we now move into what will be a dramatic offseason across college basketball. To help you get set for UVA's offseason, Hooz Got Next touched on the five things that will soon determine Virginia's 2021-2022 outlook.
That said, before completely turning our attention to this season it is worth looking back at this one. This team and the results it posted can tell us a lot about the future of this program in both the short and long term. Be sure to stay tuned to the Locker Room Access blog in the coming days, weeks, and months as we recap and analyze the season that was, cover a whirlwind of an offseason and look ahead to the season that will tip off in November of 2021.
(Image - NCAA)