Jayden Gardner Exclusive: Recruiting Process and Expectations for Next Season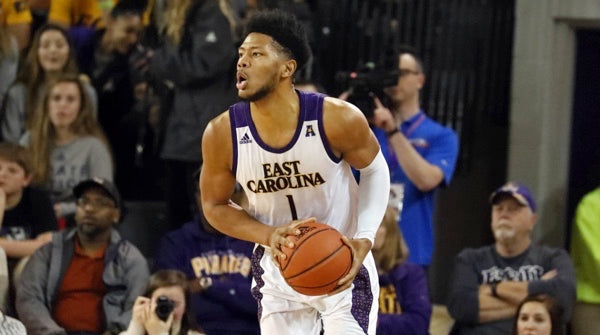 On April 12th, Durham native Jayden Gardner dramatically altered the potential trajectory of the 2021-2022 Virginia basketball squad with his commitment to play in the orange and blue. The 6'8" power forward will provide a necessary scoring punch in the frontcourt while also bringing a level of grit and leadership that the program lost with the departures of frontcourt talents Jay Huff and Sam Hauser.
But, before beginning to consider schools, Gardner's decision to transfer was eased by the NCAA's ruling that college basketball transfers would receive immediate eligibility. "I'm not really a fan of sitting out," Gardner says, laughing. "It was major that I could go somewhere and play right away. That was just the icing on the cake really."
Recruiting process
For Gardner, the appeal of becoming a Wahoo was obvious from the moment he entered the transfer portal. He emphasizes that the opportunity "to get to play for one of the best coaches in the world, in the ACC… just growing up in an ACC town, you can watch but it's a whole different ball game to experience ," adding that "at the end of the day, it was just an opportunity that I couldn't turn down."
Of course, there were also relationships that Gardner was able to rely on throughout his decision making process. Notably, fellow Durham native Trey Murphy — whose dad played ball at ECU as well — was a great resource for his childhood friend. "I've known Trey almost my whole life," notes Gardner. "My dad knows his family really well, his grandfather used to cut my dad's hair, we're both from Durham, Bull City guys."
With that relationship in place, Gardner was able to pick Murphy's brain about UVA. "We talked about Virginia," says Gardner, "he just told me what a great place it is and told me if I had any questions, just ask."
In terms of Tony Bennett's pitch to Gardner, there were a few former Wahoos who Bennett envisions providing examples for Gardner when he takes the floor at JPJ. "The players the most were Anthony Gill, Deandre Hunter, and some of Justin Anderson in transition with how I can handle the ball in transition and go," says Gardner, adding that there were "a lot of different players that can do a lot of different things that I can do, so that was a good thing."
Looking to the Future
As Gardner looks ahead to his future, he's excited about the opportunities the UVA program has to offer. First and foremost, he sees attending the university as valuable even outside of basketball as it'll give him "more resume building," and "open some more doors for me. Not only for basketball but networking outside of basketball." He adds that "I feel Virginia can do a lot for me on the court and off the court," and that while "It was definitely a basketball decision move," it was "a business move as well."
In terms of what Gardner brings to the table, he's quick to point to the intangibles including "toughness, grit, moxy, being a good teammate, a great attitude," emphasizing that "I'm going to be joyful, loud, and competitive. I'm just going to be someone to go out there and play hard. I'm going to play my butt off and leave it all out on the court."
Along with what he provides as that type of presence, Gardner boasts a versatile skillset. He points to "my motor, my IQ, my toughness, and my knack being able to go get a basket when my team needs one," as his strengths, adding that he obviously provides "scoring in the low post," while he he also adds that he "can shoot threes, can dribble, can handle, and can facilitate."
That note on his ability and willingness to shoot threes is interesting considering Gardner hasn't been a high volume three-point shooter in his three year career. He's always had a smooth shot and has been an efficient scorer in the midrange, but he's only attempted 36 triples and made nine (25 percent) over his three year career.
Next year though, that's subject to change. " already talked about it," notes Gardner, "just having the opportunity to take , it will definitely come playing for them." Of course, he understands that with the opportunity comes the expectation that he'll convert at an efficient clip, saying that "when I'm out there I'm going to get the opportunity to shoot it, so I got to be able to knock it down."
The ECU transfer emphasizes that three-point shooting will be a focus for him this offseason so that, when he takes the floor at JPJ for the first time, his outside game will be yet another weapon to add to his already diverse offensive skill set. If so, he'll have the green light to fire away. "That's what Coach said," says Gardner, "shoot stuff that you work on."
Along with his shooting, there are a few other areas Gardner is looking to tweak for next season. He lists "bal; handling, defense, getting my stamina, getting stronger," saying that he wants to "just work on some little things. I can always add some moves, some counters. I'm just trying to be a complete player."
Undoubtedly that's what the 'Hoos will be getting in Gardner, both on and off the court as the Bull City native will be an integral part of the team next season as an experienced, veteran presence who will be providing a much needed scoring and physical presence in the front court.
(Image - Karl B. DeBlaker - AP)