Pepsi Blue White Scrimmage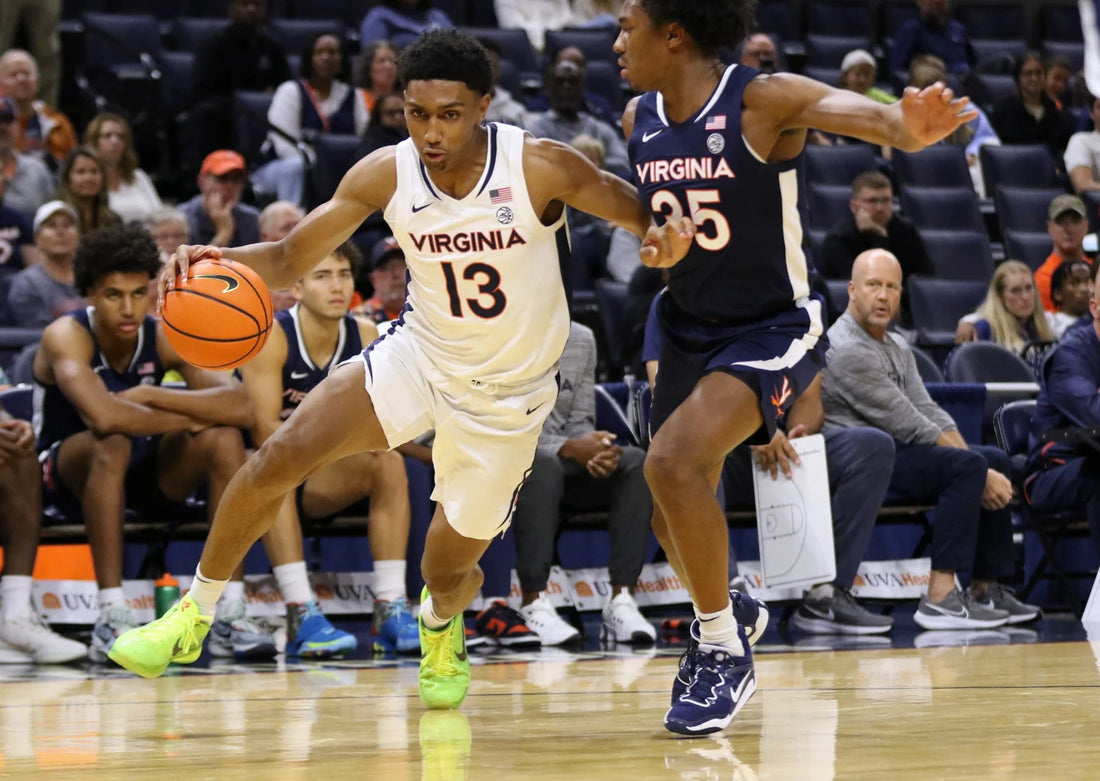 By Josh Burton
On Saturday, the Virginia Men's and Women's basketball teams held their annual Meet the Team and Scrimmages, offering fans their first look at both teams for the upcoming season. Let's take a look at some key takeaways from the Mens scrimmage.
3 Point Shootout
New to the format this year was a 3 point contest that took place before the mens scrimmage started. Tony Bennett selected four participants who had to make three shots from different areas going halfway around the arc before settling at the top of the key to shoot until time expired. The top scorers moved on to a championship round where highest score was declared the winner. Coach Bennett selected Reece Beekman, Isaac McKneely, Taine Murray and Jake Groves for the contest. The first round was very competitive with Taine (20) and Isaac (19) edging out Jake (18) and Reece (17). Isaac then went on to win the championship round 11-8.
Following the contest the scrimmages began, with three 10 minute periods played.
Stock Up
Probably the biggest "riser" of the day was Leon Bond III. Bond looked very under control and smooth within the offense for much of the game, making both contested midrange shots and 3's alike. He has definitely been putting in the effort for the last year and if today was any indication he should be a key contributor for this years squad.
Another great thing to see today was how comfortable Ryan Dunn looked on the court. He had a very "complete" showing with multiple blocks on the defensive end as well as showing a wide array of skills on the offensive end. He was very sound with the ball in his hand, scoring off the dribble and from backing down his matchup. He also showed great vision with a perfectly in rhythm big to big pass for an easy bucket. Towards the end of the scrimmages he also knocked down a 3, completing what really was a full showing of all the talents that make him a potential first round draft pick next summer.
Defense Reigns Supreme
On the whole maybe the most impressive thing from today was the overall team defense shown from both the blue and the white teams. Both sides were really flustering each other all day for a team that looks to have plenty of playable depth.
First year Blake Buchanan looked very good defensively as he held his own against incoming transfer Jordan Minor and also did well defending Jake Groves out away from the paint. Blake certainly appears to have a bright future and should really press for more time as the season goes on.
Mid-season transfer Dante Harris also lived up to his "lightning quick" billing. A contest pest on the ball all day, Dante forced multiple turnovers and got his squad out in transition. Offensively he also showed off his quickness, splitting multiple double teams and getting to the basket or finding an open teammate. He definitely brings a level of speed UVA teams don't typically have and will be very to watch as he provides a spark for the team all season long.
Quick Hit Notes
Reece Beekman is the best player/4th year captain we hoped for. Reece was noticeably the best player on the court all day, even with Dante having caused a few turnovers off of him. He is constantly showing to be one play ahead, and the work he's put in on his shot in the offseason was very noticeable. While also keeping his defensive prowess, this new offensive ability he showed should have him in the running for multiple postseason awards and accolades.
Transfer big Jordan Minor showed as a very gifted rebounder and should be a solid glue guy for the team this year. He made it very difficult for his matchups to get positioning all day and was constantly on the boards after the shot. Offensively he mainly showed to be the pick and roll athletic finisher that has been projected for him.
Transfer Andrew Rohde didn't see the shots fall the way he probably wanted, but overall was very impressive on the day. He held his own defensively and offensively looked very good with the ball in his hand. He showed a great handle throughout the game and did a very good job of both attacking the basket and setting his teammates up alike. If the shots can fall for him (most notable 3 point shots) he will be a very critical piece of this years team as the secondary ball handler who can thrive in our 3 guard lineups.
There were multiple intriguing lineups shown, most notably the starting "white team" lineup of Beekman, McKneely, Rohde, Dunn and Groves. With no traditional 5 man post in the lineup this group more than held its own and played well enough defensively to show to be a lineup that could be used frequently this season. There was also a lineup that featured both first year bigs, Anthony Robinson and Blake Buchanan playing together. In this lineup Blake was matched up with Jake Groves, while Anthony was matched up with Jordan Minor. This lineup was nice to see with Blake showing the ability to guard Jake out away from the basket. On the other end both Groves and Minor also did a great job of containing their counterparts. These multiple big pairings will be huge for Hoos this season when they play teams who are strong in the front court.
Lastly a lineup of Beekman, McKneely, Dunn, Bond III and Buchanan really stood out as a potentially devastating matchup for opponents. Ryan and Leon look to be interchangeable matchups on the wing and I believe can form a pairing that will resemble the Deandre Hunter Braxton Key duo from Virginia's championship winning 2019 team. Both players were extremely impressive on both the offensive and defensive ends today and were the biggest standouts of the scrimmage.
A very competitive scrimmage showed a lot of promise for the approaching season and a fun day for the Cavalier faithful. Stick with Locker Room Access all season long for full coverage of what is looking to be a very season for the UVA Men's Basketball team!